A destination which is in the bucket list of almost every traveler, Paris is a charming city that has a lot to offer to travelers. From sipping a glass of red wine in front of Eiffel Tower to strolling through the cobbled streets of the city, every moment spent in Paris is worth-remembering. Not just this, Paris is also brimmed with stunning architectural sites including the famous Louvre, spectacular shopping malls, fancy cafes and a lot more. If you are still wondering about things to do in Paris for a fun-filled vacation, check out this blog to know about the best things to do in this French capital for a soul enriching holiday experience like never before.
10 Interesting Things To Do In Paris
If you are planning a visit to Paris or dream of exploring this charming city, then we have got you covered with the best things to do in Paris for a mesmerizing trip.
1. Enjoy A Majestic Cruise On Seine River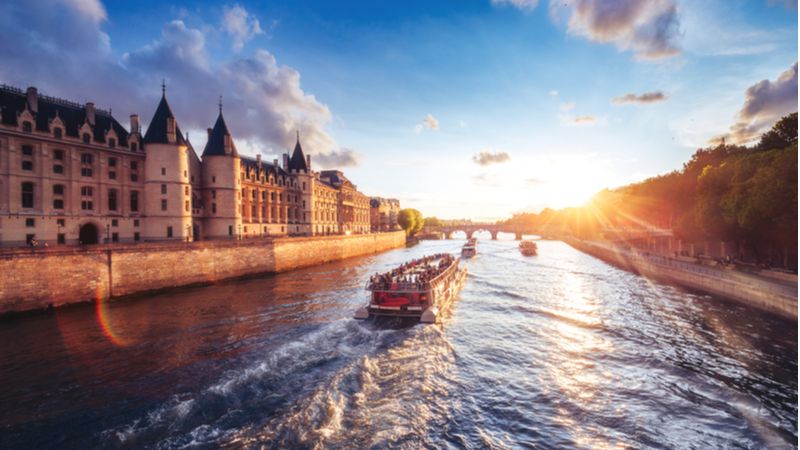 One of the fun things to do in Paris is definitely cruising on the river Seine. Enjoy a lavish experience of exploring the city in a hop-off hop-on cruise in which you can explore multiple attractions. Admire the scenic skyline of Paris from the middle of the water while feasting on delectable delicacies served on the cruise. One can also enjoy various recreational events that are organized on these cruise boats while relishing the eye-catching views of the skyline.
Approximate price: Starting from €10 per person for a basic tour
Timings: 10:00 am to 09:30 pm
Starting Point: Pier 3 near the Eiffel Tower
Duration: 1.5 hours
2. Spend Some Fun-filled Moments At Disneyland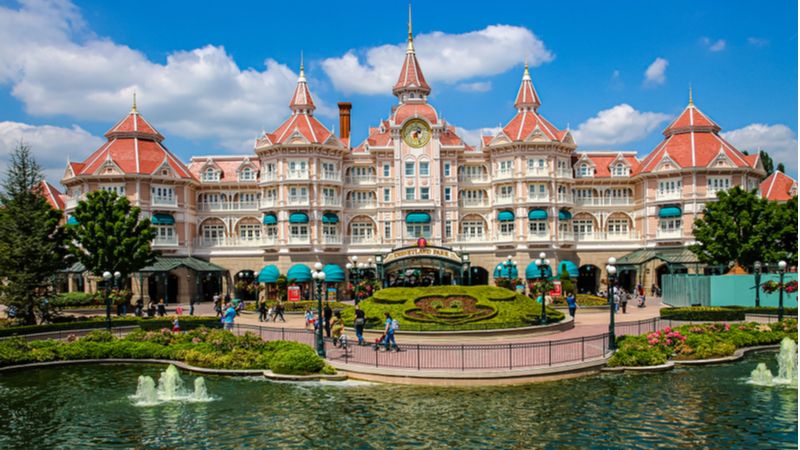 If you are looking for best places to visit in Paris then Disneyland is an unbeatable option which is not just a place for kids but for people of every age group. With myriad options for entertainment, Disneyland offers a day full of leisure, fun and excitement. From thrilling rides to food kiosks, animation movies to dramatic shows, Disneyland has it all. From the mesmerizing castle to exciting rides found here like Tower of Terror, Star Wars Hyperspace Mountain, Big Thunder Mountain, it's a small world, Pirates of the Caribbean and a lot more, one can expect a great time exploring the various attractions of the park.
Address: Boulevard de Parc, 77700 Coupvray, France
Timings: 10:00 am to 11:00 pm
Entrance Fee: Starting from £48.06 (12+ years) and £44.50 (3 to 11 years)
Suggested Read: Top 10 Places To Visit In March In The World
3. Splurge On A Fancy Shopping
Paris is a city known for its voguish street style fashion and high-end brands and one shouldn't return from here without buying for the stylish things from Paris. There are various public squares, boutiques and malls to find some designer pieces from here at great prices. Get exclusive designs from the high-end brands and leave your own aura anywhere you go. Some of the best places to go for shopping in Paris are Saint-Ouen Flea Market, Le Marais, Boulevard Saint Germain, Hermès, Avenue Des Champs Elysées, Canal Saint-Martin, Boulevard Haussmann and Galeries Lafayette.
What to buy: French macarons, Rive Droite tote bags, french beret, Picasso Cubist
Best Malls: Forum des Halles, One Nation Paris, Passy Plaza, Bercy Village, Le Carrousel du Louvre
Best Street Markets: Marche d'Aligre, Marche Dejean, Rue Cler, Marche des Enfants Rouges
4. Go For Champagne & Wine Tasting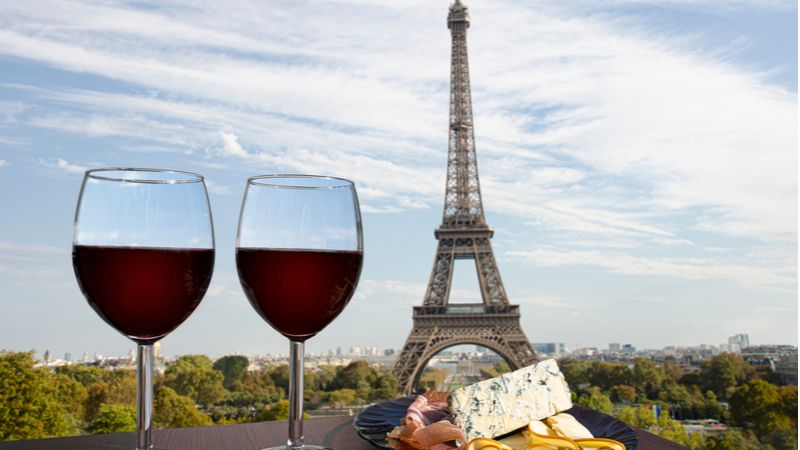 In the list of top 10 things to do in Paris, one definitely has to be wine and champagne tasting as the city is brimmed with various scenic vineyards. You can book a wine and champagne tasting tour and know about the process of brewing, different varieties of grapes, and taste the scrumptious flavors of different wines and champagne with the help of the local guide. Click stunning pictures of the scenic vineyards and the landscape surrounding it. These tours come in different time duration, location and combinations, so choose accordingly and as per your choice.
Duration: 45 minutes
Best Wine Tasting Tours: FM Tour France, Original Food Tours Paris, Withlocals, Montmartre Hill Sweet & Savory French Gourmet Food & Wine Tasting Tour
Suggested Read: Places To Visit In The Middle East For A Cultural Holiday Experience
5. Stroll Through The History Of The Louvre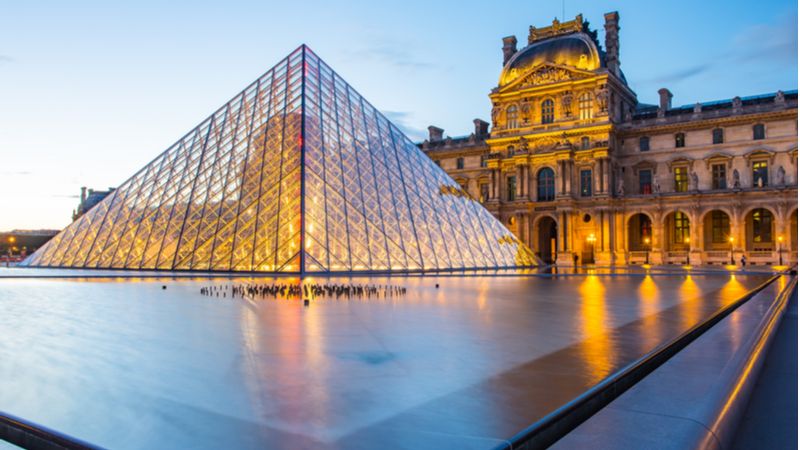 The world's largest museum, the Louvre is also the most visited art museum in the world featuring art works dating back to the 19th century and ancient civilization. Strolling through this museum and admiring the stunning art displayed here is definitely one of the most famous things to do in Paris. Displaying the art of the world-renowned artists, the Louvre Museum can be best explored with the help of a local guide who will guide you with the meaning of the art and the various facts related to it. The paintings displayed at the Louvre are one of the finest in the world featuring different periods of the European era.
Address: Rue de Rivoli, 75001 Paris, France
Timings: Wednesday to Monday: 9 a.m.–6 p.m (Closed on Tuesdays)

6. Marvel At The Stunning Views Of Eiffel Tower At Night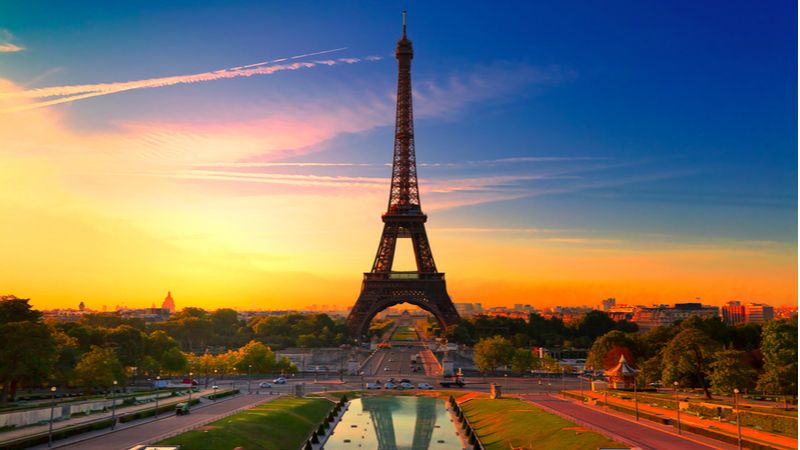 The most iconic landmark of Paris is definitely Eiffel Tower and nothing can be more satisfying than admiring the beauty of this gorgeous landmark at night. Capturing the stunning beauty of Eiffel Tower or taking a stroll around the nearby places here is one of the best things to do in France. With an approximate height of about 324 meters, the monument was built by Gustave Eiffel to celebrate the 100th century of the French Revolution. One can even enjoy a fancy dining experience on the second floor of the Eiffel Tower while enjoying the mesmerizing views from the top.
Address: Champ de Mars, 5 Avenue Anatole France, 75007 Paris, France
Timings: 09:00 am to 12:45 am
Entrance fee: Ticket to second floor with access to lift - 16,60€ (Adults), 8,30€ (12 to 24 years), 4,10€ (4 to 11 years) and free for children
Suggested Read: The Best Food Destinations In The World For Foodies To Enrich Their Taste Buds
7. Enjoy A Cabaret Show At Moulin Rouge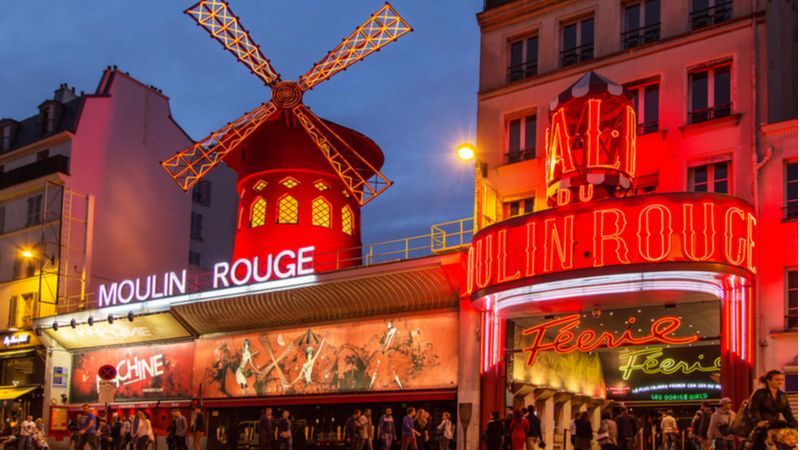 Cabaret Shows are very popular in France, hence one of the top things to do in Paris is watching a cabaret show at Moulin Rouge. The ambience of this place is lit with live entertainment and shows which are lively and a package of complete entertainment. There are more than 80 artists and dancers that perform live in front of the audience on the most vibrant beats in the quirkiest decorated building. The cabaret house also talks about the rich history and the various cultural stories of France.
Address: 82 Boulevard de Clichy, 75018 Paris, France
Timings: 09:00 pm to 01:00 am
Time Duration: Approx. 2 hours
8. Enjoy A Scenic Walk At Palais Royal Gardens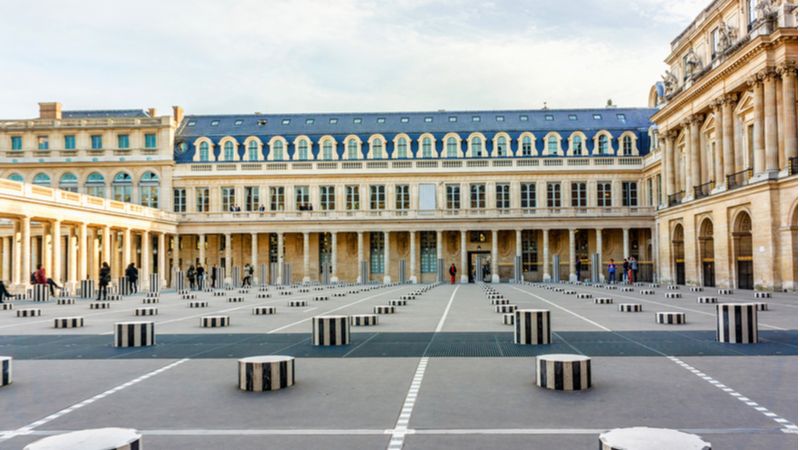 One of the most fun things to do in Paris is strolling through the lush green Palais Royal Garden which is a great place to relax, chill and connect with nature. You will often find families with kids here enjoying picnic or friends enjoying their private time. The garden is also lined with various entertainment options like designer boutiques, cafes and perfume shops. This 2-hectare large garden features various species of flora, different sculptures, a courtyard and is surrounded by around 180 arches. From enjoying the fresh breeze to enjoying picnic with friends or family, one can have a great time at the Palais Royal Gardens.
Address: 43 Rue de Valois, 75001 Paris, France
Timings: 08:00 am to 08:30 pm
9. Take A Tour of Palace Of Versailles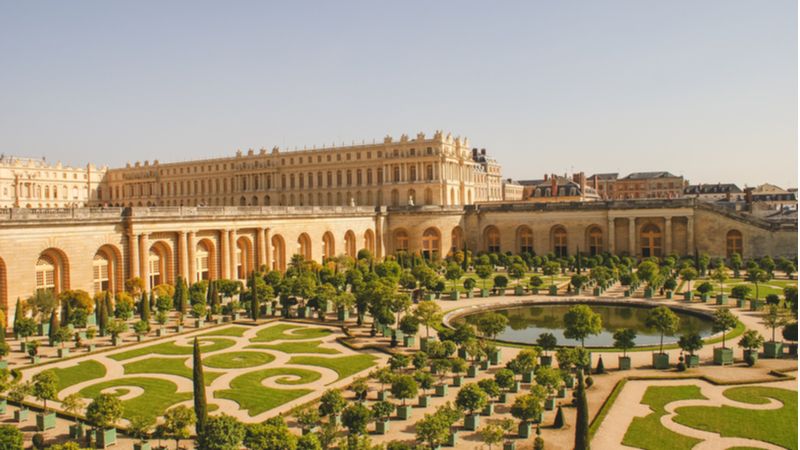 Paris which is also one of the best honeymoon places in the world gives ample of options to couples to enjoy a pleasant honeymoon in the city. One of them is to take a tour of Palace of Versailles which is one of the most iconic landmarks in the world known for its landscape architecture. The whole design and architecture of the garden is stunning with fountains, statues, ornamental basins and a lot more. This manicured garden bordered with hedgerows and Dragon fountain which famous for its 99 jets makes this garden even more appealing.
Address: Place d'Armes, 78000 Versailles, France
Timings: 08:00 am to 06:00 pm
Entry Fee: 20 € (free for visitors under 18 years of age)
10. View Paris By Taking A Helicopter Tour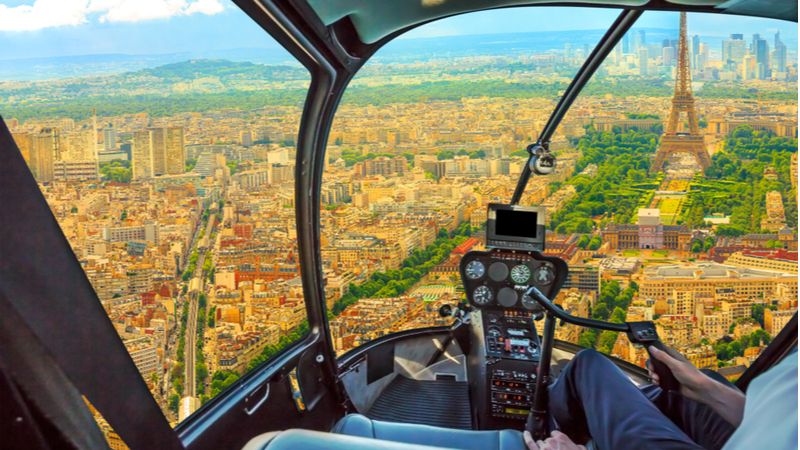 If you are looking for adventures in Paris then the best one to try is take a city tour through a helicopter. The views of the Paris city look absolutely magical from above and will definitely take your breath away. From witnessing the beauty of Eiffel Tower to the grandeur of Grand Palais, the views from above are stunning. Also, it is a very unique way to explore the city and will offer you with an experience like never before. Do not miss out on this and make sure to book your helicopter tour in Paris to marvel at the gorgeous views of the most refined architectural wonders nestled in the city.
Height: Approx. 3400 meters above Eiffel Tower
Duration: 25 Minutes
Paris, a gorgeous city in France offers a delightful experience to guests who are in awe for cultural and architectural delights. From the finest of museums like the Louvre to the beauty of the River Seine, one can enjoy a most exotic holiday experience in Paris. From being a honeymoon destination to a family-oriented travel destination, Paris has it all. So, if you already have plans to book your flights to Paris, we hope this article would have helped you in planning your trip and make you aware about the best things to do in Paris. If you have anything to add to this list, please do let us know in the comments section below.
FAQs:
Q1. What are the best things to do in Paris on a honeymoon?
Paris is a great choice for honeymoon as the city has some amazing offerings to offer to the couples like:
Enjoy a sunset from Eiffel Tower
Enjoy a dinner cruise over Seine River
Enjoy a wine tour with your partner at the best vineyards
Stroll through the best art museums in the world
Seek blessings at the Temple of Love
Q2. What are the best adventures to try in Paris?
Some of the best adventures to try in Paris are:
Paris city tour by helicopter
Air balloon ride
Zip lining
Rollercoaster rides at Parc Astérix
Jet skiing on Seine River
Q3. How many days are enough for Paris?
Around 5 to 6 days are considered good enough for an ideal trip to Paris.
Q4. Which is the cheapest month to go to Paris?
The cheapest month to travel to Paris is January.
Q5. Which are the major attractions to visit in Paris?
Some of the major attractions to visit in Paris are:
Eiffel Tower
The Louvre
Avenue des Champs-Élysées
Cathédrale Notre-Dame de Paris
Place de la Concorde
Arc de Triomphe
Luxembourg Gardens
Q6. Is Paris dangerous at night?
Paris is one of the safest destinations to visit at night. One can walk around the streets or have a gala time near Eiffel Tower as the city is perfectly safe. Women travelers can be a bit cautious at night and must avoid traveling to unknown places.
Q7. What are the best things to do in Paris at night?
Some of the most amazing things to do in Paris at night are:
Enjoy a fancy dinner at the second floor of the Eiffel Tower while enjoying picturesque views from the top.
Enjoy a cabaret show at Moulin Rouge
Enjoy a ride on a Ferris Wheel
Take a tour of Louvre at night
Enjoy a night cruise on River Seine
Q8. Can one drink tap water in Paris?
Yes, one can drink tap water in Paris as it is absolutely safe for drinking.
---