Antalya is so more than beaches and cultural attractions. This vibrant city of Turkey is a paradise for shoppers who will love exploring the streets, the malls, and the old market places. While traditional shopping can be a thing for any traveler, the malls in Antalya are best for your high-end shopping and leisure. The global brand hoardings and entertainment options like cinema and restaurants have made malls, one of the top attractions that define the city's lifestyle and fashion. So here we have a list of top malls for your shopping experience in Antalya.
Top 8 Antalya Malls You Can Visit For A Retail Therapy
Malls have everything to bewitch visitors, be it the collection or the entertainment options. Being more than just your shopping place, Malls can be so more to experience and enjoy. Read on and discover some of the best Malls in the city where you shop from dusk to dawn.
1. Mall of Antalya Shopping Center
This biggest mall in Atalaya is a hub for shoppers with more than 234 retail spaces. Mall of Antalya was awarded a Certificate of excellence for its services and facilities. Launched in the year 2017, the mall is a center for entertainment, leisure, and fun. There are gaming sections along with cinema, galleries, and so more to offer you a day full of thrill and adventure. The mall of Antalya shares the same collider with the Deepo Outlet Center so, you can easily explore both the malls at the time.
The mall of Antalya brings the culture and lifestyle of the city under one roof. The mall features Moa Stage to display games for kids and adults. There is 4000 ms2 space for dining where you will find the best cafes, restaurants, and kiosks.
Location: Altinova Sinan Mahallesi, Serik Caddesi, Havalimani karsisi Kepez, Antalya
Timings: Opens at 10 AM and closes at 11 PM
Facilities:
Fashion Stores
Restaurants
Cinetech Cinemas
Indoor Game Area
Moa Stage
2. Deepo Outlet Center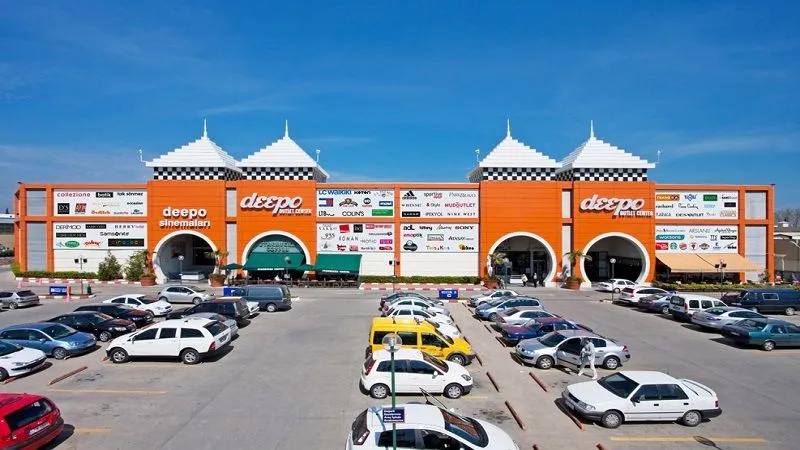 Aventure, fun, and thrill, all can be experienced together at Deepo Outlet Center. Being one of the best malls in Antalya, the Deepo outlet center features every facility and leisure to make your shopping day the best experience. Families love exploring the colliders moving from the mall of Antalya to the Deepo Outlet Center.
There are more than 900 fashion brand outlets that are displaying their best products. Be it fashion, sports accessories, or home decor, Deepo Outlet Center has every featured collection. The Antalya Outlet Mall Deepo keeps the visitors engaged with every possible activity. From go-karting track to cinema and amusement park for families, you can find your preferred activity to do in Antalya for the day. The mall has a separate dining space where you can find everything from fast food to authentic Turkish dishes and more.
Location: Altinova Sinan Mahallesi, Serik Caddesi, Havalimani karsisi Kepez, Antalya
Timings: Opens at 10 AM and closes at 11 PM
Facilities:
Cinemas
Amusement Parks
Fashion outlets
Dining Space
Go-Karting
Suggested Read: Places To Visit In Turkey For The Best Turkish Experience
3. Mark Antalya Shopping Mall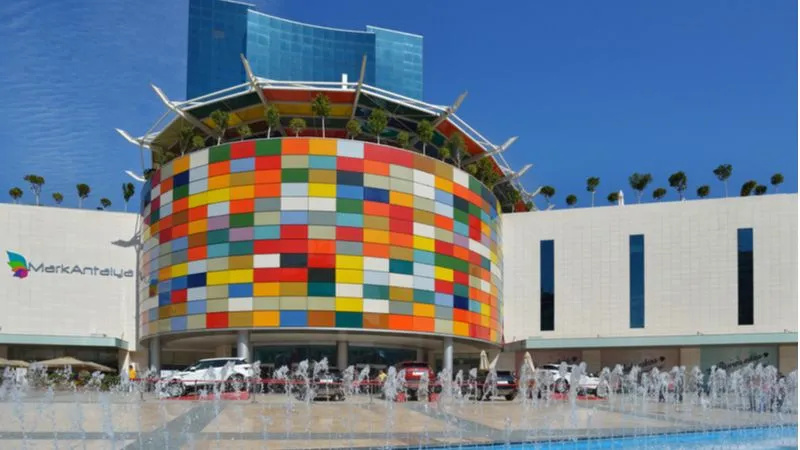 Among the top Antalya Malls, the Mark Antalya is known for its largest parking space. The mall can allot space to more the 3000 vehicles at a time. While the mall features every facility, you need to spend a fun day with family, there is more to its infrastructure and services. The mall has a 51.000 square meter leasable area.
Located in the heart of the city, Mark Antalya is quite accessible from almost every comer of the city. The collection here features the best brand names like Levi's, Madame Coco, Adidas, Mado, H&M, Mango, etc., etc. The mall features collection of more than 155 national and international brands for exceptional shopping in Turkey. For your family dinner, the mall has a huge dining space with the best fast-food options and restaurants. You can also enjoy open-air dining under the sky.
Location: Tahılpazarı Mah. Kazım Özalp Caddesi (Şarampol) No:84 Muratpaşa / Antalya
Timings: Opens at 10 AM and closes at 11 PM
Facilities:
Restaurants and Cafes
Fashion stores
Sports accessories
Open-air dining
Parking Area
4. TerraCity Shopping Mall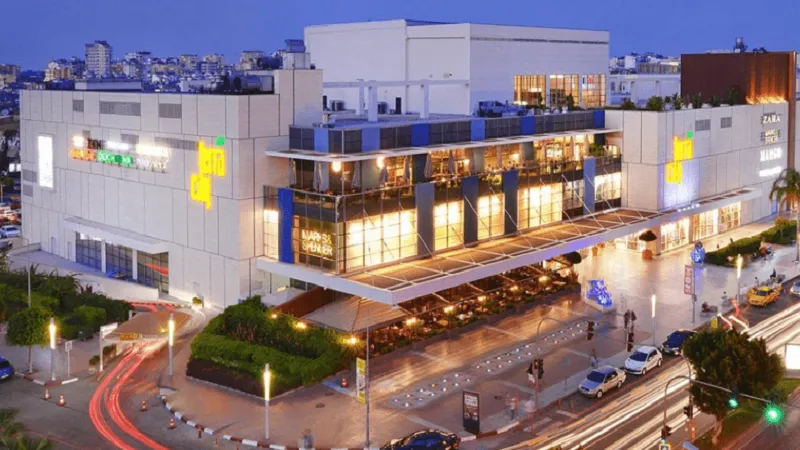 TerraCity is among the top-notch shopping malls in Antalya where shopping is a whole new experience. With more than 180 stores, the mall has introduced a unique style and a perfect combination of national and international brands. A huge variety of fashion makes it nothing lesser than an attraction in Turkey you can explore. This premium shopping hub redefines what luxury and leisure are. There are exclusive brands to showcase the top trading fashion items for kids and adults. The kid's area in the mall is the best place where your children could enjoy the day.
Located in Lara, Tarracity is a place where you can discover what entertainment is. There are more than 30 restaurants serving you every international and traditional Turkish dish to savor your day. The mall's dining area is big enough to accommodate 1000 guests at a time. The big cinema and attractive interior make it the most loved attraction.
Location: Fener mahallesi, tekelioğlu caddesi, Lara,Muratpaşa/Antalya
Timings: Opens at 10 AM and closes at 10 PM
Facilities:
Cinema
Restaurants and Cafes
ATM
Praying Room
Parking area
Wi-Fi
Suggested Read: Top Hotels In Turkey: Our Top Picks For A Pleasant Stay
5. Özdilek Park Shopping Mall Antalya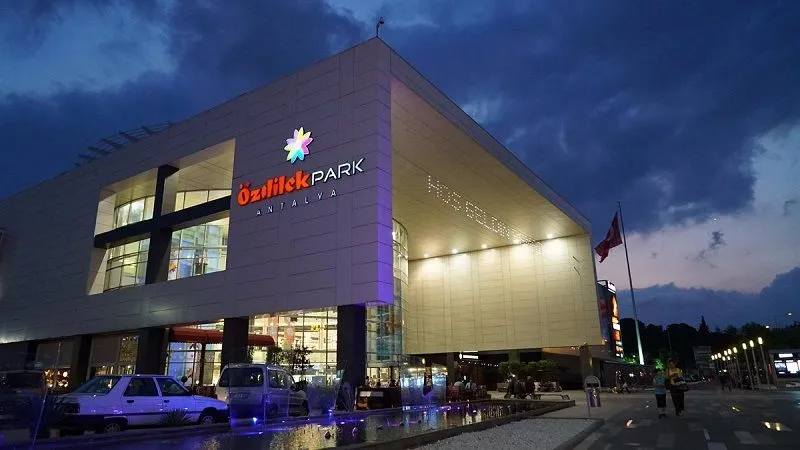 Ozdilek shopping mall, the oldest Antalya shopping mall, is a great place to explore. The mall was built in 2009 and since then, it has offered every visitor a unique fashion and lifestyle. While there are many international displays for the guests, you will also find some home brands and products of Ozdilek. There are 144 shops and some locally built markets inside the mall where you can buy Turkish Hamam towels and textile items.
From Addison to Pantaloons and KFC and Popeyes, Ozdilek is surely a place to spend leisure time with your families. There is a lot more adventure and fun you think of having with your gang.
Kids love this best Turkey mall for an exclusive place for kids that features the best branded clothes and games. From cinemas to hand factory and sand house, there is so much for you to discover and enjoy
Location: Fabrikalar Mahallesi, Fikri Erten Caddesi, Kepez/Antalya
Timings: Opens at 10 AM and closes at 10 PM
Facilities:
Cinema
Gaming area
Restaurants
Parking Space
National and International brands
Suggested Read: Top Malls In Istanbul, Turkey For A Fun-filled Day Out With Friends Or Family
6. Erasta Shopping Mall Antalya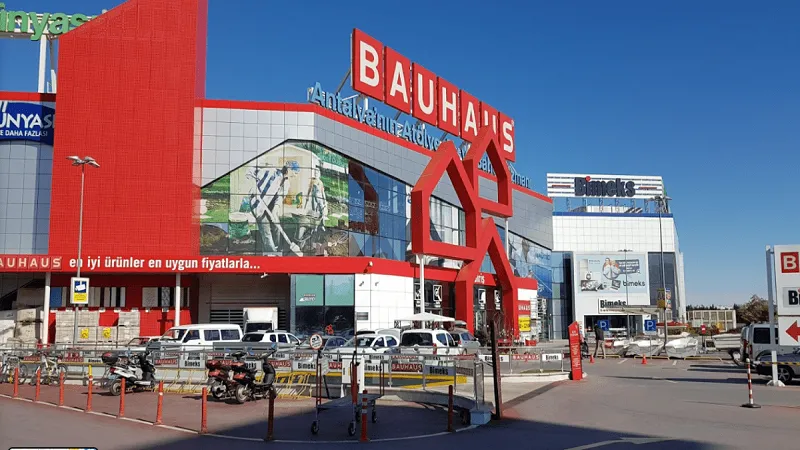 Keeping fashion and entertainment in mind, the Erasta is one of the best Antalya malls that welcomes every visitor. The mall has attracted many with the unique half-open-air design that makes it one of the popular attractions in Antalya.
From your classic Deichmann shoe collection to your casual of H&M and sportswear of Decathlon, Erasta shopping mall has every trending and needed accessories to upgrade your style. The mall is tracking the latest trends to bring it to Turkey for the millennials. When it comes to fun, there is a bowling area, cinema, and many featured game sections for every kid and adult in the city.
Being one of the most popular malls for shopping in Antalya, the place is often flooded with visitors. People love celebration their day at the food court, where there is a huge diversity of dishes lined to spice up your holiday.
Location: Dumlupınar Bulvarı No:49 Kepez/Antalya
Timings: Opens at 10 AM and closes at 10 PM
Facilities:
Restaurants and Cafes
Kids game area
Cinema
Bowling area
Parking space
7. Antalya Migros Shopping Mall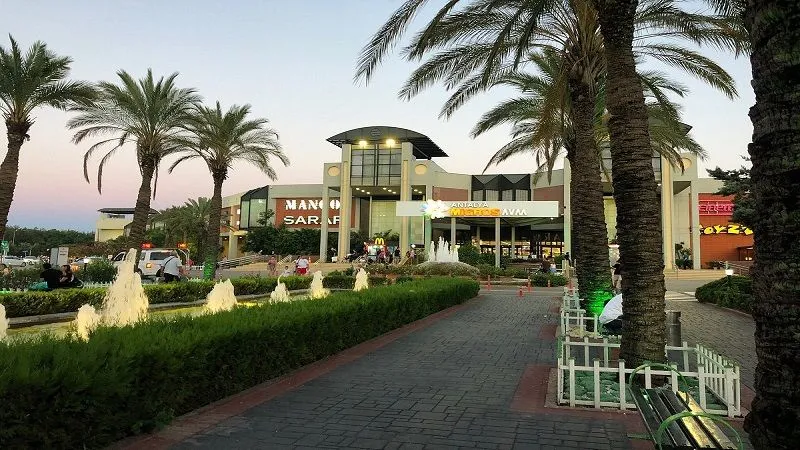 While shopping is the best thing to do in Turkey, the city of Antalya has many malls and markets for your fun. The Migros Shopping Mall is among the best and Antalya's biggest mall where you can shop your heart out. Opened in the year 2001, the mall features every necessity and trend in its collection.
Not only the people of Antalya but tourists also find this place interesting and best for shopping. The vast collection includes luxury and affordable accessories to make meet the demand of all. How can you add more to your holiday experience? Well, the mall has space for organizing cultural and social events occasionally. Enjoy the food from the cafes and spend time exploring 130 shops in Migros shopping mall.
Location: Arapsuyu Mahallesi, Ataturk Bulvarı, Konyaaltı Antalya
Timings: Opens at 10 AM and closes at 11 PM
Facilities:
Fashion stores
Event space
Restaurants and cafes
Cinema
Parking area
Suggested Read: Nightlife In Antalya, Turkey: Guide To Relish The Night In The City
8. The Land of Legends Shopping Avenue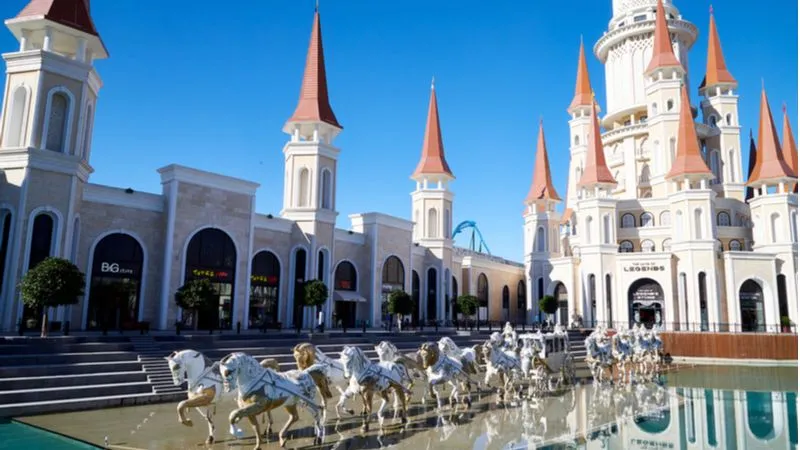 Offering you a luxuriating experience of shopping and entertainment, the Land of Legends Shopping Avenue is one of the best Antalya Malls. With the vast space for more than 4000 people at a time, the mall is an incredible example of fine architecture and beauty. This luxury addition in Analaya's attraction list not just offers you a shopping experience but some other facilities. You can choose from the best hotels in Atalaya offered by the avenue to make your holiday a memorable time with family. There are theme parks at the mall premises, engaging travelers with some fun activities.
Talking about shopping, you will find every international brand listed on the sopping menu, while the restaurants and cafes here are always welcoming tourists. There are even taxi boat rides available for exploring the mall area.
Location: Atatürk Caddesi No 515-1, Antalya 07506 Turkey
Timings: Opens at 12 PM and closes at 12 AM
Facilities:
Hotels
Restaurants
Cinema
Theme parks
Taxi boat
Standing as one of the best attractions for tourists and locals, malls in Antalya are best for spending an entertaining day. The vast collection, the exclusive features, and the incredible architecture, and infrastructure have made them very popular among the visitors. While these malls offer you a complete global experience of shopping, there is a lot to add for a fun day of your vacation. Being so more than just shopping, you can now add these best malls to your list for the Antalya holiday tour. Get your Antalya flights booked today and set off for a memorable vacation in Turkey.
FAQs
Q1. What are the best malls for shopping in Antalya?
The top malls for shopping in Antalya are:
Mall of Antalya
The land of Legend Avenue
Mark Antalya Mall
Deepo Outlet Center
Mirgos shopping mall
Q2. What are the best things to do in Turkey?
The top things to do in Turkey on your vacation are:
Hot air ballooning
Exploring the beaches
Museum tours
Shopping
Q3. Which is the biggest mall in Antalya?
The Mall of Antalya is the biggest in the city with more than 234 stores, 1600 m2 indoor kids game area, and a vast food court of 4000m2.
Q4. What are the best facilities at Mark Antalya Mall?
The best facilities offered at Mark Antalya mall are:
Restaurants and Cafes
Fashion stores
Sports accessories
Open-air dining
Parking Area
Q5. What are the best brands available at Erasta shopping mall?
You can shop the high-quality brands in Erasta mall for your wardrobe like:
Flo
H&M
Koton
Deichmann (shoe store)
D&R
Decathlon
Q6. Is Mall of Antalya and Deepo Outlet Center the same?
No, the Mall of Antalya and Deepo Outlet center are two different shopping places that share the same collider. Both the malls have their own collection and facilities for the visitors.
Q7. Which is the best shopping place in Antalya?
Antalya has a number of shopping markets, shops, showrooms, and malls where you can find the best collection of fashion and décor. You can explore the traditional and local markets for budget shopping but if you need something international and local brand, you can visit the best Analaya's malls.
Q8. Which is the best mall near Antalya airport?
The Mall of Antalya and Deepo Outlet Center are two of the best malls that are located close to the airport in the city. These malls are known for their exclusive collection and best service.
---