If you are a beachgoer who is planning a trip to the UK, just know that your vacation is incomplete until you have explored the golden sand beaches in United Kingdom. The fact that the UK is an island country (An archipelago, or an island group of 7,000 islands, to be precise) makes it obvious that it has an incredible coastline, which is worth exploring! Constituting of four other countries, i.e., England, Scotland, Wales & Northen Ireland, it boasts of beaches suited to a whole range of activities, like surfing, swimming, fishing, photography & even bird watching! Besides, some of them are even pet-friendly, so if you would like a family beach in UK that would allow your four-legged furry pal, the country has you covered!
Best 8 Beaches In United Kingdom To Explore Before You Die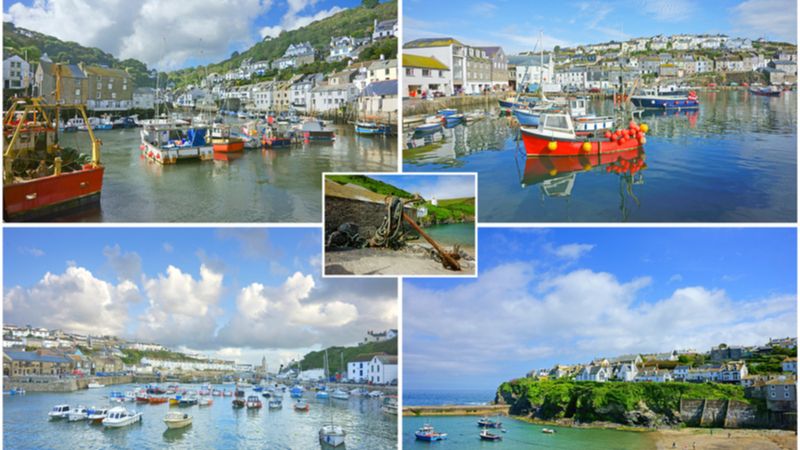 Depending on where you are visiting in the UK—as aforementioned, it is a European country including four others—recommendations are bound to vary. Broadly, if you are planning a trip to England, our top picks would be 'Fistral Beach' & 'Crosby Beach', while 'Nairn East Beach' & 'Loch Morar' are going to be the suggestions if you want to vacation in Scotland. Similarly, if you happen to be going to Wales, you just can't afford to miss 'Barmouth Beach' & 'Poppit Sands Beach'. Your travel to Northern Ireland is partial until you have hit the 'Ballycastle Beach' & the 'White Park Bay'.
With so much that a beach lover needs to know before embarking upon a UK trip, make a point to read this post to the very end. And don't forget to book from this list of resorts to stay in UK, consisting of the very best.
1. Hengistbury Head & Mudeford Sandbank, England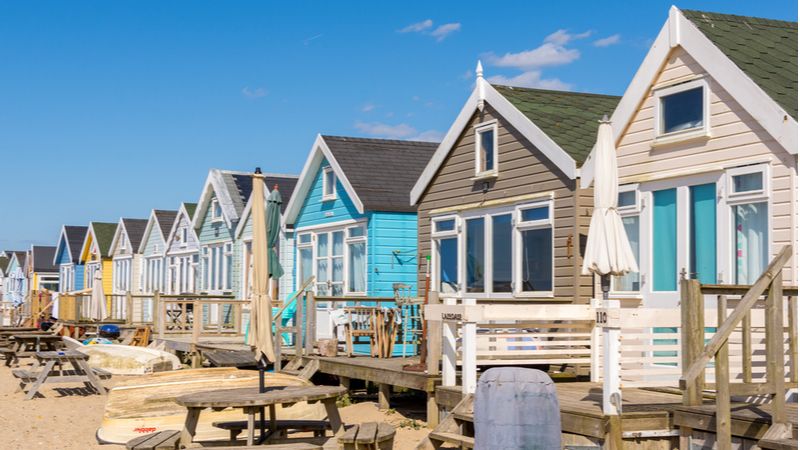 Foremost, we have clubbed these two places because they are located within a walking distance from each other. As the name suggests, Hengistbury Head is a 'headland', which can be described in lay man language as an elevated portion of land extending into water. This one projects out in the English Channel, & is located between 'Bournemouth', a resort town & 'Mudeford', a former fishing village. One of our suggested beaches in UK, Mudeford Sandbank is a charming white sand beach.
Location: Hengistbury Head & Mudeford Sandbank are located in the 'Dorset' county, which is in South West England. The county is located on the English Channel shore.
Facilities: Parking (Paid), cafés, restaurants, bars, shops selling beach buckets & spades
Famous For: 350 beach huts
Things To Do: Help the kids build a sand castle & treat them (& yourself) to pizzas or burgers at a café!
Suggested Read: The Best Beaches In France Every Beachgoer Must Explore
2. Poppit Sands Beach, Wales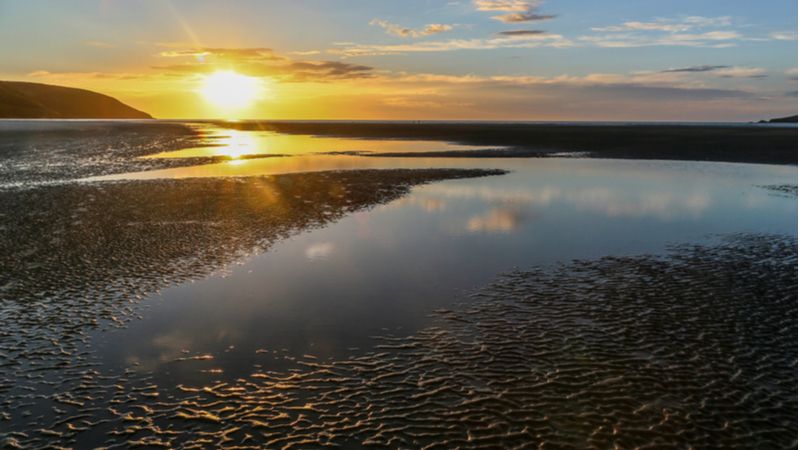 Being in Wales as a beach lover does not mean that you need to compromise on your favorite attractions—with its coastline touching the Irish Sea & the Bristol Channel, the country offers some of the best beaches in United Kingdom. Of these, Poppit Sands tops our list. Easy to reach from the market town of Cardigan (It has a medieval castle too. So, if you are planning to dedicate your weekend to Cardigan, it may not be a bad idea!), this is a beach backed by sand dunes.
Location: Cardigan is situated in the coastal 'Ceredigion' county (Historically called Cardiganshire), located on the western shore of Wales.
Facilities: Parking, public toilets, café, lifeboat station, gift shop
Famous For: Variety of terrain, from rocks to sand
Things To Do: Explore the beach, marveling at wonders of nature from sand dunes to rock pools!
3. Marloes Sands, Wales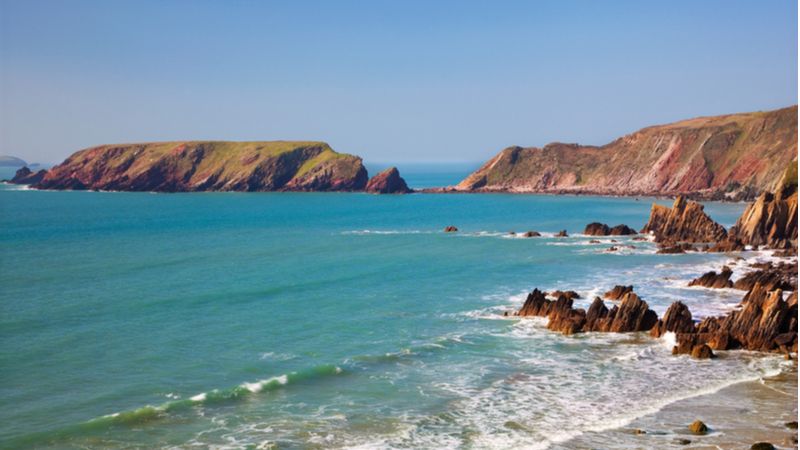 Yet another of our recommended beaches in United Kingdom, the Marloes Sands Beach is where the Kristen Stewart & Chris Hemsworth-starrer, 'Snow White & the Huntsmen' was shot. Considering its remoteness, it is little wonder that this shore in the village of Marloes (Also called Marlais), was the location for the multi award-winning movie. It is popular with wild swimmers. (Wild swimming refers to swimming in natural waters, like a pond or even an ocean, as opposed to an artificial swimming pool. The water is cold but fans swear by the health benefits of the sport.)
Location: Marloes lies on a peninsula of the same name. It is in the Pembroke (or Pembrokeshire) county, situated in south-west Wales.
Facilities: Parking (There are two car parks.), toilets, ice-cream van, café, stop selling beach stuff
Famous For: The wild swimming community
Things To Do: A family beach in the UK where children can do bodyboarding & the dog can run along the shore!
Suggested Read: Beaches In Italy: Discovering The Best Ocean View In Europe
4. Luskentyre, Scotland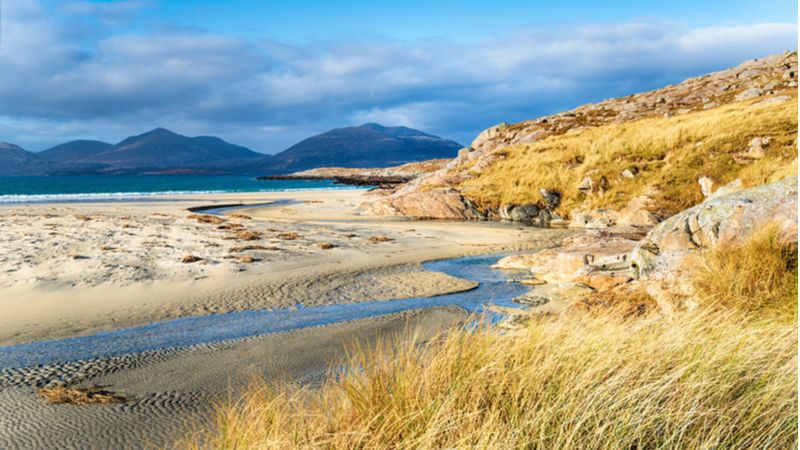 Travelers heading to Scotland, don't feel left out! To the west of mainland Scotland is the island chain of 'Outer Hebrides'. (It also has several other names like Western Isles, Innse Gall, Long Isle & Long Island.) The largest of these islands is 'Lewis & Harris' & its southern part is just called 'Harris'. Known for evocative landscapes, this mountainous region has lovely beaches too. Topping our list of these is Luskentyre, an isolated beach with a Caribbean vibe! With bright blue-green waters, a white coastline & grazing wild ponies, it will steal your heart!
Location: As aforementioned, the settlement of Luskentyre is on Lewis & Harris, off the west coast of mainland Scotland.
Facilities: Parking, toilets, snack van (To the south of the beach)
Famous For: Being voted Britain's best beach! (Not just our recommendation, people agree about it being the best beach in UK!)
Things To Do: Decide your flight to the United Kingdom, take a ferry to Lewis & Harris, visit the Luskentyre Beach & spot wildlife!
Suggested Read: Beaches In Thailand: Top Locations For A Happening Holiday Amidst the Sun & The Sand
5. Barafundle Bay, Wales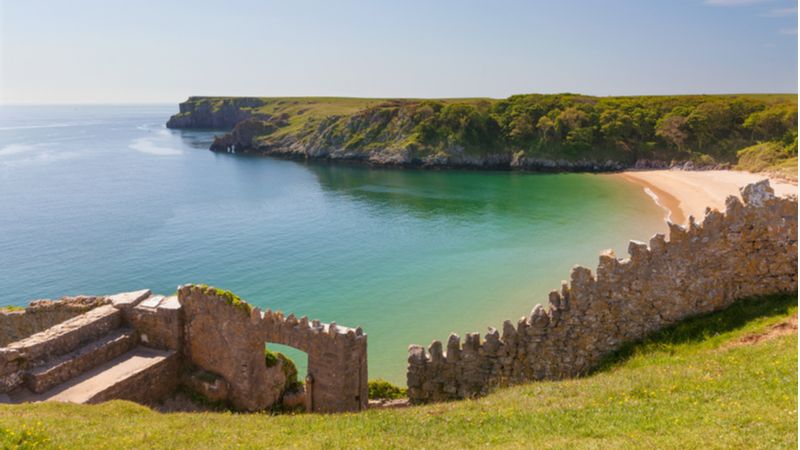 Another beach in Wales which we would be happy to endorse as one of the best beaches in United Kingdom is once again in Pembrokeshire (like Marloes Sands). As stated above, Pembroke is in southwestern Wales. (Part of the reason that it has such stunning beaches is because it is surrounded by the sea on three sides.) Rated a flawless five stars, the Barafundle Bay is a half-an-hour-long hike across clifftops in 'Stackpole Estate'. It, hence, goes without saying, is an unspoiled beach. Like other beaches in Pembrokeshire, it is sandy.
Location: To elaborate on what has been stated above, Barafundle Bay falls in Stackpole Estate, which is between the villages of 'Stackpole' & 'Bosherstone'.
Facilities: Set in a rural setting, there are neither any snack counters for food, nor any toilets here.
Famous For: Solitude
Things To Do: Check the other best places to visit in UK, book yourself a vacation & have this beach to yourself!
6. Rhossili Bay, Wales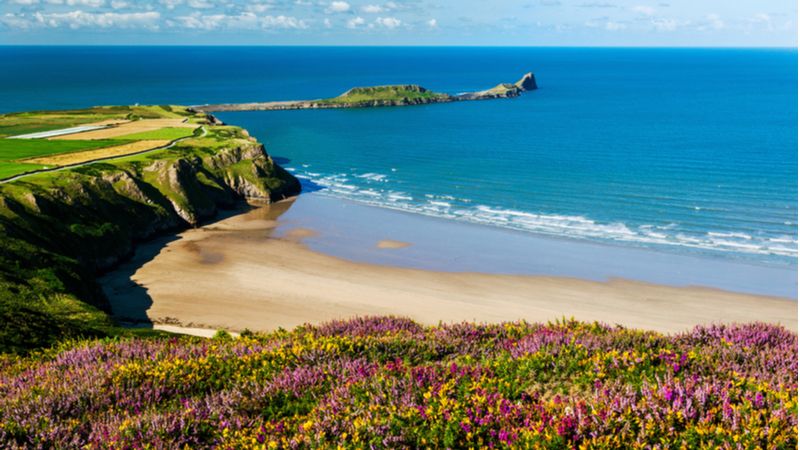 With us featuring not just the best beaches in the UK but the best beaches in Wales as well, it only makes sense to include the beach that was voted Wales' best! Protruding from mainland Wales, in South-West, is the Gower Peninsula. Interestingly, on the southwestern tip of this southwestern peninsula is the village of Rhossili. The country's favorite beach is popular among the water sporting community, & what's more, it is great for spotting dolphins & whales too! You know you can't miss this one!
Location: As discussed above, Rhossili is at the western end of the Gower Peninsula. The bay is a part of the Gower Coast. The county is Swansea.
Facilities: Parking, toilets, restaurant (At the nearby Hillend Caravan & Camping Park), pubs, cafés
Famous For: Golden sands
Things To Do: Hit this family beach in UK with your furry friend (It's dog friendly!) & take a walk to unwind!
Suggested Read: Beaches In Bali: Top Serene Locations That You Can't Afford To Miss
7. Godrevy, England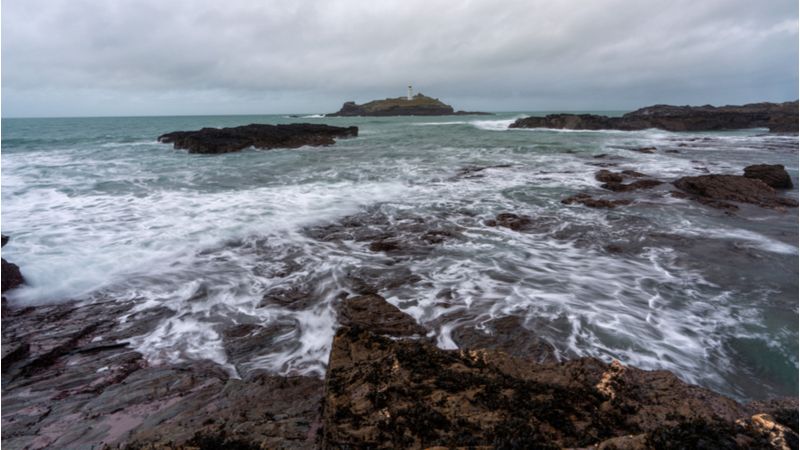 Tourists to England, don't be disappointed! After Hengistbury Head & Mudeford Sandbank, here is another of the beaches in United Kingdom, in England, that makes us to our recommendations! Located in the most remote county of the country—Cornwall, Godrevy is a dramatic 'cove'. (A cove is a geographical feature appearing along the coastline of a water body like the ocean. Think of it as a smaller pool of water within a larger water body.) There is an iconic lighthouse here, which is considered to have inspired writer Virginia Woolf's novel 'To The Lighthouse'.
Location: To add to the above, the Godrevy Lighthouse is a part of 'Godrevy Towans', with the term 'towan' meaning sand dune. The location is west Cornwall to be precise.
Facilities: Parking, toilets, cafés (The Hells Mouth Café is an easy walk.), ice cream van (At the car park.)
Famous For: The inspiring lighthouse
Things To Do: Explore the Godrevy Towans & Gwithian beaches, which are side-by-side & fuse into one during low tide!
Suggested Read: Places To Visit In March In The World To Experience Balmy Weather
8. Portstewart Strand, Northern Ireland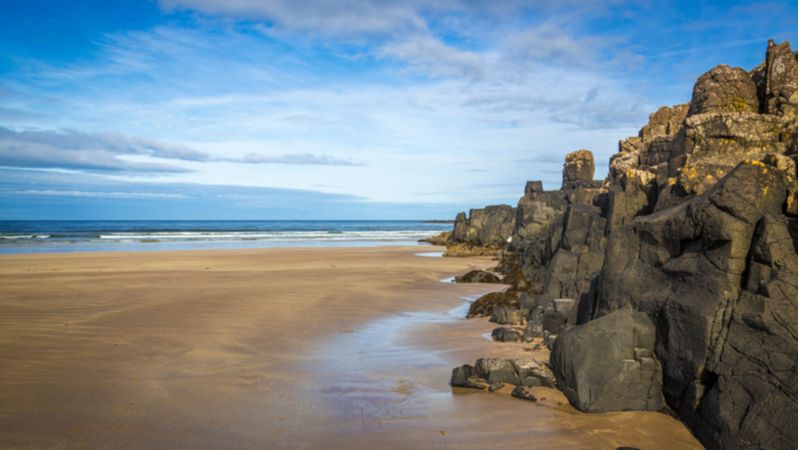 Last, but obviously not the least, is this broad coast in Northern Ireland! (If you are visiting "Norn Iron", we assume you will be traveling the whole of UK, so don't forget to pick up recommendations from our blog post on things to do in United Kingdom.) Located on the 'Causeway Coast', in the seaside resort town of 'Portstewart', is this 2.5-kilometer-long beach, the best in Northern Ireland, & surely one of the top beaches in United Kingdom. The best part? You can take your car right to the firm sand on the coast & the parking has a capacity of more than 1000 vehicles!
Location: The small town of 'Portstewart' falls in 'County Londonderry'. (County Londonderry is also simply called County Derry, so don't get confused!)
Facilities: Parking (Paid in the peak season), toilets, restaurant, ice cream van, coffee van
Famous For: Being the filming location of The Game of Thrones!
Things To Do: Drive right onto the beach, walk over the golden sand barefoot & have a hot meal at Harry's Shack on a cold day!
Suggested Read: Best Places To Visit In April In The World: Top Locations To Welcome Summer
And here you go—here is a list of beaches in UK which we believe are the most recommended for beachgoers. From popular ones that are teeming with life, for days when you want to spend the day with family, to isolated stretches in remote locations, when you want to relax, our suggestions include them all! Whether you are visiting the beautiful Scotland, or the lesser explored Northern Island, these white & golden coasts need to be ticket off your bucket list. Since they are located in different parts of UK, no matter where you are headed, you can include one of these attractions, or even two. Plan a trip this summer, book a flight to the United Kingdom & cool off!
FAQs
Q1. What are the top 20 beaches in the UK?
Apart from the above eight, the following plages make it to our list:
Fistral Beach, England
Crosby Beach, England
Weymouth Beach, England
Barmouth Beach, Wales
Chesil Beach, England
Nairn East Beach, Scotland
Gruinard Bay, Scotland
Loch Morar, Scotland
Saunton Sands, England
Kynance Cove, England
Cullen Beach, Scotland
Blundellsands Beach, England
Q2. What is the best beach in the United Kingdom?
We will go with Luskentyre, Scotland, which was literally voted Britain's best beach! From the chance of spotting whales & dolphins in the water, to eagles soaring in the sky, it is also recommended for wildlife enthusiasts! Don't forget to choose from our recommended hotels in United Kingdom to stay when you decide to hit these beaches!
Q3. What is the nicest beach in the UK?
Depending upon your personality, we would suggest Portstewart Strand in Northern Ireland, particularly if you are a Game of Thrones fan, Godrevy in England if you enjoyed reading To The Lighthouse, & Rhossili Bay if you like photographing landscapes!
Q4. What are the best beaches in England?
Our top 5 picks for beaches in England are the following:
Hengistbury Head & Mudeford Sandbank
Godrevy
Fistral Beach
Crosby Beach
Weymouth Beach
Q5. Is there a beach in Scotland?
Let alone the Scottish islands, mainland Scotland is lapped by the mighty Atlantic Ocean, its North Sea, as well as the Irish Sea, which means that it offers several gorgeous beaches. Our favourite of the lot is Sandwood Bay (Kinlochbervie).
Q6. What is the cleanest beach in the UK?
Several of the beaches in United Kingdom are very clean, almost as if they are untouched by mankind. Barafundle Bay in Wales is one of them.
Q7. Where is the sea warmest in UK?
Bracklesham Bay in England might be your best bet if you want your feet being splashed by waves of water!
Q8. What are the sandy beaches in England?
Our top choice will be Hengistbury Head & Mudeford Sandbank, the very first to be featured in this blog post.
---