Singapore, the name itself, has a magnificence that reflects the grandeur of the country. Also referred to as the lion city, it is one of the most renowned, and lively countries in Asia.  For many, Singapore is the first destination that pops in the head while planning a vacation. What makes it a perfect destination for vacation is its picturesque and panoramic views, immaculate beaches, lovely abodes and relishing dishes. If you are someone who goes crazy for selfies, you can explore the most amazing beaches for clicking those quintessential pictures that are truly 'gram worthy. The country is no less than a beach paradise, and out of all those, here is a list of 9 beaches in Singapore. Luckily the beaches are pristine and distinctive.
Most Popular Beaches And Islands In Singapore
Asian country with amazing food and picture-perfect destination is everything that you can ask for on a vacation. Check out the list of amazing beaches, water adventures and not to forget the sumptuous seafood. The list includes few most serene islands that are visited for a sneak out form for the chaotic hustle and bustles of life.
1. Palawan Beach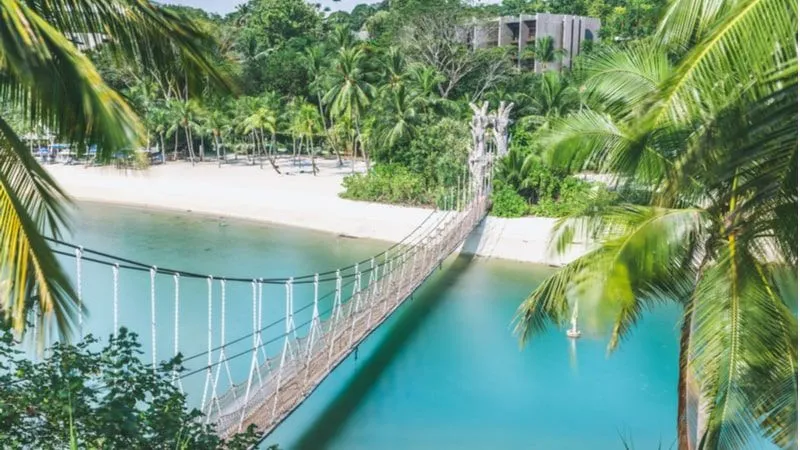 Located in the westernmost tip of Sentosa Island, Palawan Beach is an impeccable tropical retreat. The glistening sand, the orchard of palm trees, emerald-colored water and the entertainment zone makes it a must-visit place in Singapore. If you are planning a trip with family, then be rest assured Palawan beach in Sentosa offers a multitude of recreational activities.
Well, the charm of sandy feet, Sunkissed face and salty hair is beyond compare. Apart from everything that a convectional beach offers, the Palawan beach is famous for its suspension bridge in Sentosa. The bridge is inspired by the movie Pirates of the Caribbean, is linked to a small island. Believe it or not, the moment you step in the place instantly makes anyone fall for it. The beach has shallow lagoons that are perfect for relaxing and enjoying. So, just trade your wait & laze with the long walks relishing optimism and soothing tides.
Location: Palawan Beach, Sentosa Island Singapore
Apt time to visit: February to March
Facilities: Water sports equipment, restaurants, local shops
Things to do: Water sports, beach games, hogging on seafood
2. Siloso Beach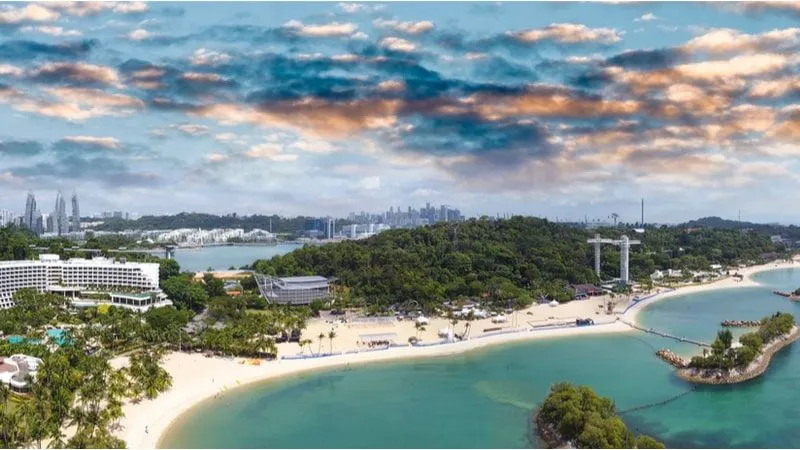 Many get their craziness unleashed on Siloso beach located on Santoso Island. Considered as one of the best places to visit in Singapore, it is among the busiest beaches. Looking for beach bars, petty shops, sunglass sellers or jewelry sellers? Beach offers everything can you think of.
Everything along with white sparkling sand and cerulean water is mesmerizing, no wonder it is one of the best beaches in Singapore. As the dusk breaks, the beach hoppers experience crazy beach parties, and fun screams amidst the lively music surely evoke a sense of cheerfulness. Well, to your surprise, Siloso is a man-made beach with sand imported from Australia.
Location: 51 Imbiah Walk Sentosa Singapore
Apt time to visit: November to January & May to August
Facilities: local jewelry shops, street food vendors  
Things to do: Beach party, water activities, shopping
3. Changi Beach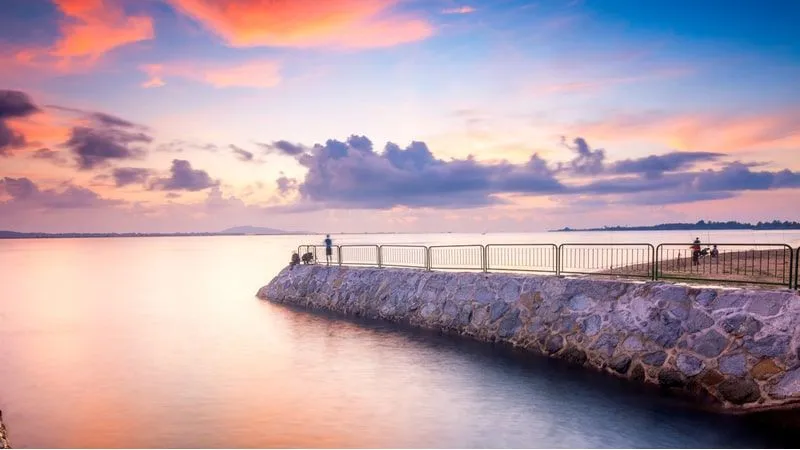 Changi beach, located on the east coast of the main Singapore Island, is numbered among the best tropical beaches. Visitors can enjoy cycling, camping and tasting lip-smacking seafood. There are many options to play near the beach or at the seashore, although there are two fully dedicated playgrounds.
The Beach offers a delightful view of mesmerizing sunset, perhaps the most surrealistic natural scenery you would have come across. In their spare time, visitors often check out the Changi chapel. The beach is a little rough for diving, though it compensates it with the plentitude of other activities. If you are a morning person, just don't... do not miss out on the sunrise at the Changi beach.
Location: Nicoll Drive Singapore
Apt time to visit: January to March
Facilities: Bicycles, sea food, Playgrounds
Things to do: Cycling, camping, seafood testing, chapel visit
Suggested Read: Places To Visit In Switzerland For Discovering The Swiss Splendors
4. Sembawang Beach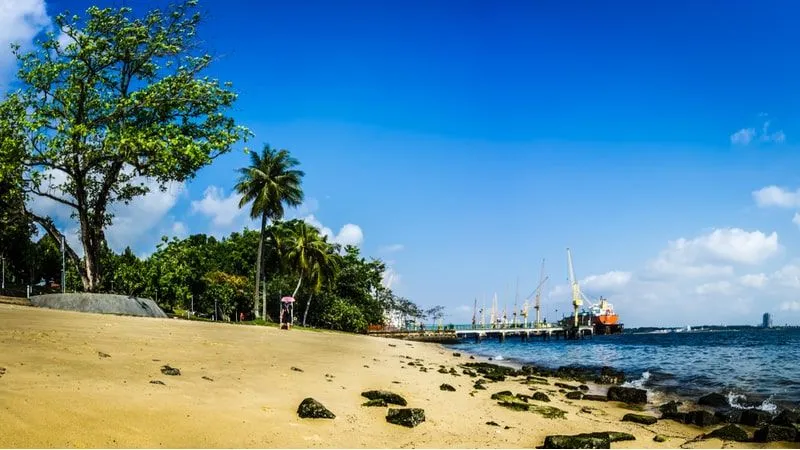 One of the most highlighted natural beach Sembawang is located near the popular Sembawang park near the Strait of Johor. Beaulieu House is yet another most historical landmark near the beach. Just lie down at the seashore, and frolic through the warmth of the sun and fresh ocean breeze.
At the Sembawang beach, the deep sapphire water kissing your feet would leave you rejuvenated. Explore the water sports at the beach along with other recreational activities offered. Singapore is gifted with many gorgeous beaches, and no wonder it is amongst the best places to visit in Asia. The beach is calm and soothing and receives high number of footfalls.
Location: Sembawang Rd, Singapore
Apt time to visit: Month of April
Facilities: Green park,
Things to do: Relax, Swim
5. Punggol Beach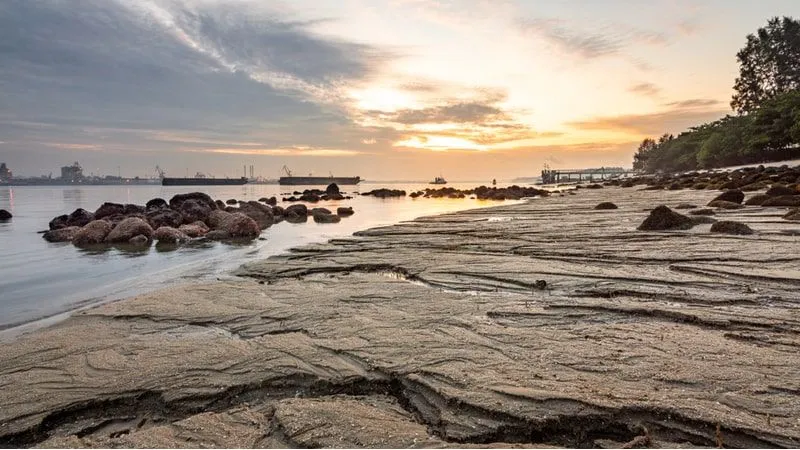 Punggol might not be the first beach to pop in your head when you plan to explore the beaches in Singapore. But if you haven't visited the Punggol beach on the east coast yet, you are missing a great deal. The place has a lot to offer, from a very rich history to the finest of the shores. The deck stretches out to a great distance giving scope for fetching a great variety of fishes.
In Singapore, Punggol beach is a haven for travelers who wish to spend a tranquil moment away from the uninvited cacophony. Wakeboarding, boating, and kayaking are a few of the watersports that are offered.
Location: Sentul Crescent Road Singapore
Apt time to visit: March
Facilities: N/A
Things to do: Relax in Solitude, walk beside seashore, play
Suggested Read: Famous Beaches In Kerala, India Perfect To Experience The Warmth Of Nature
6. Tanjong Beach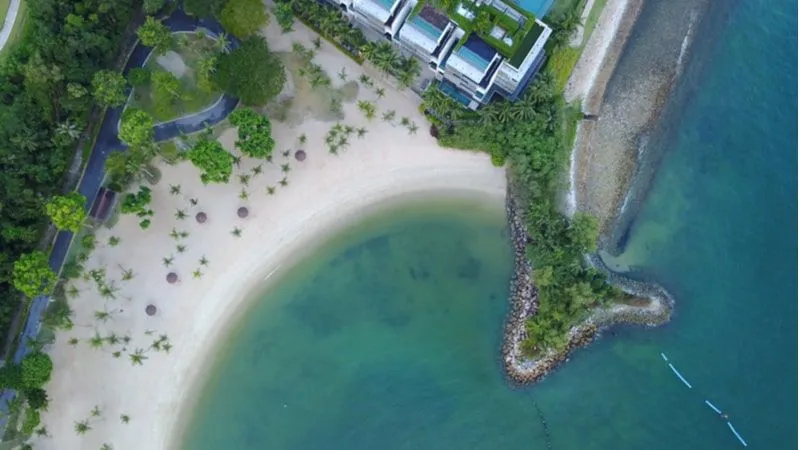 Just like Siloso beach, Tanjong beach is also a manmade beach for which the sand was chipped from Australia. Despite being an artificially created water body, it doesn't fail to calm your soul and provide those moments of solitude that many crave for. Its moon shape is one of a kind and is popularly known for the night parties happening at the Tanjong beach club.
If you are a food connoisseur, the famous restaurant and petty local food outlets could be heaven for you. Unlike the other beaches on Sentosa Island, Tanjong beach had lesser activities, so if you are seeking a calm place to laze around is perfection in all sorts. Couples can stroll beside the shore, read together or just count stars, who cares! a moment of togetherness can work wonders.
Location: 120 Tanjong Beach Walk Sentosa Island Singapore
Apt time to visit: October to February
Facilities: Adventure sports, Beach club
Things to do: Party, water sports, relax, swim
7. Lazarus Island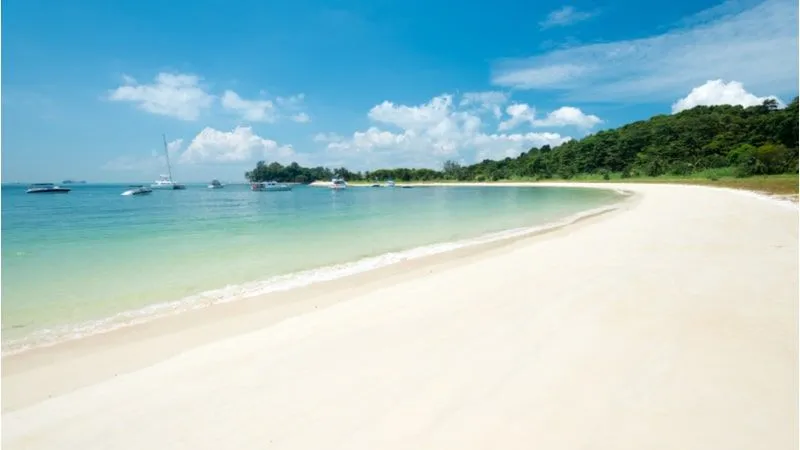 If you are a lovelorn couple who has recently gotten married and are in quest of Honeymoon places to go in Asia, then your search ends here. Lazarus Island in Singapore is a paradise that includes romantic spots, beaches, coral reefs and exquisite flora and fauna.
The place is pure bliss giving an unruffled escape in utmost tranquility. If you are seeking pure wilderness, do not forget to stop by this island offering the finest beaches. Swim and dive deeper to find the corals and school of various fishes. Out of many Islands in Asia, Lazarus is amongst the busiest amongst the busiest island where people frequently visit for a relaxing day out.
Location: Lazarus Island, Singapore
Apt time to visit: November to January
Facilities: N/A
Things to do: Relax, walk , cycle
8. Pulau Hantu Island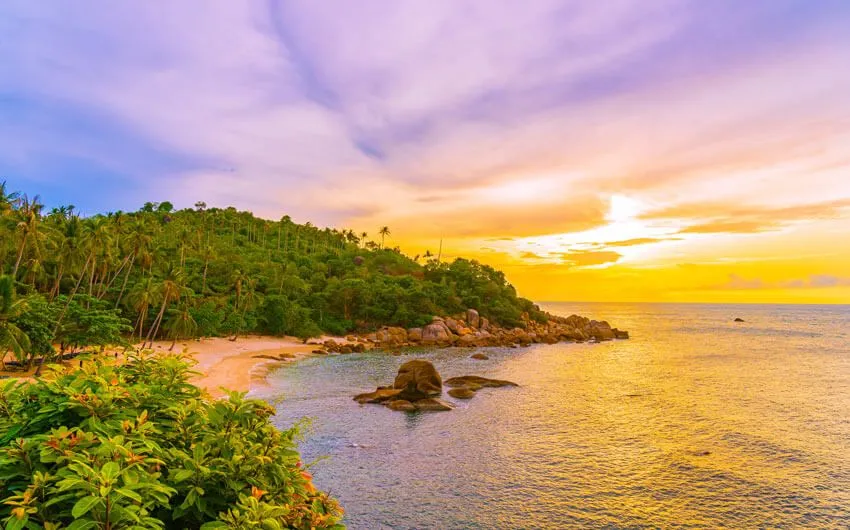 Lovely beaches and calm ambience, what else do we search for on a beach vacation? Fed up of the chaotic exposures? If you are trying to steal a day of solitude, Palau Hantu Island could be your one-stop destination. The island entertains all who come to take refuge for a day, be it the adventurous souls or the couch potatoes, who are looking for a laze around.
Adventure enthusiasts can indulge in fun activities such as water snorkeling, underwater swimming or scuba diving, and camping. Not much popular this place keeps from a heavy crowd and yet offers multiple activities. It is situated in the south southern part of the main island and renowned for peaceful swimming lagoons and relaxing beach holidays away from the city. Yet another more talked about activity is camping, for those who are looking for outdoor adventure. The beach campsites is located in sheltered regions with all the basic facilities.
Location: Off shore Singapore
Apt time to visit: January to December
Facilities: Water sports
Things to do: Snorkeling, sandboarding
Suggested Read: Stunning Places To Visit In India To Rejuvenate Your Senses
9. Coney Island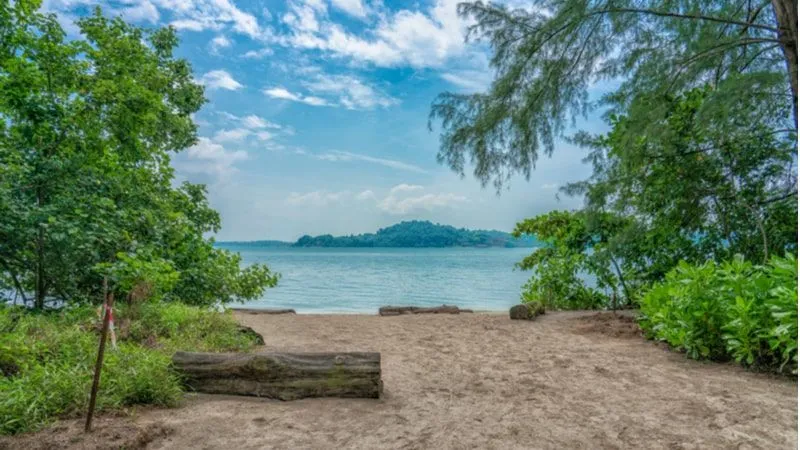 Coney Island was originally known as Pulau Serangoon, but the English version of the name became popular eventually. It is an offshore island locates in the southwestern part of the main island of Singapore.
What makes this island exclusive is the combination of breathtaking scenery and rustic trails. Home to a wide variety of habitats and discreet flora, and fauna the Coney Island offers a plethora of activities to do apart from just relaxing by the shore. Catch the wilds, birds and other endangered animals. So, if you are a group of friends, solo traveler or couple, there is something for everyone here.
Location: Offshore Singapore
Apt time to visit: January to December
Facilities: Playground, restroom
Things to do: Bird watching, sunset hiking
Suggested Read: Ladakh Road Trip: Discovering The Land Of High Passes
Singapore is full of astounding sceneries and beaches that are gorgeous to a magnitude. The cerulean waves and white glittery sand, golden sunbeams and soothing ocean breeze works like an elixir. Although the beach saga of Singapore and its beauty can't be expressed in words but the writeup tries to do justice with the charm placidly in an unperturbed way. Hopefully the blog turns out useful for all those who are planning a vacation to Singapore. Apart from a happening day out on beach, visitors can enjoy a lit night out in Singapore at the beach clubs. The best thing is since it's not an extremely expensive country, excursionists can plan a jaunt at very reasonable offers.
FAQs
Q1. What are the best water adventures to do at Singapore?
There are many adventurous sports in Singapore but the most famous ones are flyboarding, Jet skiing and wakeboarding. Scuba diving is yet another most famous sport that many try.
Q2. Which is the most visited beach in Sentosa Island?
There are many popular beaches on the Sentosa Island, but the most famous out of all are the Siloso Beach and the Palawan Beach.
Q3. Is there any restaurant at the Palawan beach in Singapore?
Restaurants On Palawan Beach
Bora Bora Beach Bar
Club Islander
Q4. What are the best beach resorts in Sentosa, Singapore?
Amara Sanctuary Resort Sentosa, Siloso Beach Resort and Shangri-La Rasa Sentosa Beach Resort are few of the most popular and fun beach resorts in Singapore.
Q5 Is Tanjong a natural landmark in Singapore?
Many people are confused about the originality of Tanjong beach. It is not a natural landmark but a manmade beach by importing sand from Australia.
Q6. Where is Siloso Beach located?
Siloso Beach is satiated on the Sentosa Island the exact location is 51 Imbiah Walk Sentosa Singapore.
Q7. Which Is the oldest beach in Singapore?
Changi Beach is the oldest amongst all the beaches in Singapore. Yet it hasn't lost any of its charm, and it is included in the busiest beaches.
Q8. How to reach Lazarus Island?
There is no ferry terminal at the Lazarus Island despite that anyone can reach Lazarus Island very conveniently. All you need to do is take a ferry to St John's Island and from there it's a walk of hardly 10 minutes to reach the Island.
---