Muscat is blessed with myriad of stunning beaches with turquoise waters and lofty mountains in the backdrop. Whether it's about basking on these golden sandy beaches in Muscat or trying out thrilling adventures, we are sure everyone will have a gala time here. The serene environment, calm waters and the mesmerizing views surrounding these beaches make for a perfect tranquil getaway for all those who love nature and serenity. There are both public and private beaches in Muscat, some of them comes with top-notch amenities while others are just raw and beautiful pieces of nature offering seclusion. So, check out this blog to know about the beautiful beaches to visit in Muscat for a tranquil getaway.
Top 8 Beaches In Muscat For A Relaxing Beach Vacation
The 1700 km long coastline of Oman gives birth to the stunning beaches out of which some of the best ones can be found in its capital city. Stroll through this list to find out the best beaches to visit in Muscat.
1. Qantab Beach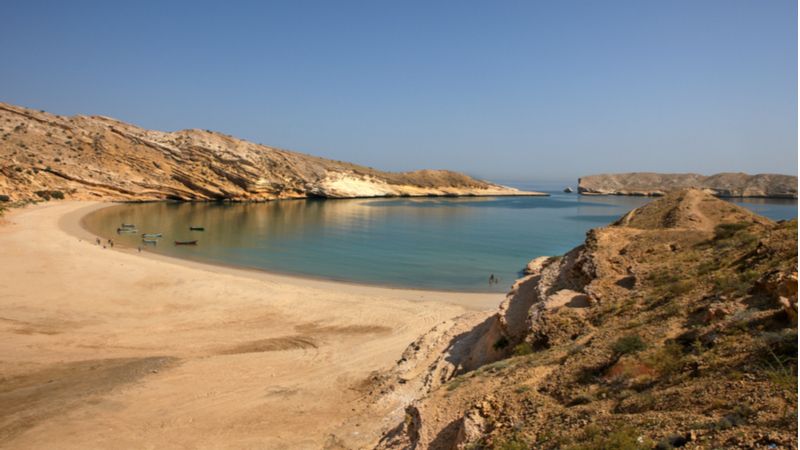 In the list of stunning Muscat beaches, Qantab Beach ranks our list which is located in a small village of Muscat named Qantab. It is one of the most serene beaches in Muscat with a pebbled shore where walking sometimes can be difficult. However, the gorgeous views of the rocky shores and the limestone deposits are worth it. The beach is surrounded by beautiful Omani architectural buildings and boats which shows the beauty in the local craftsmanship of the country. It is also a great place to admire the beautiful sunset views overlooking the hills surrounding the beach and the nearby beach. One can relish a hot barbecue session here or take a ride to some of Oman's best islands which are easily accessible from Qantab beach.
Location: Qantab Village, Muscat
Facilities: Barbecue, cruise, fishing boats
Famous for: Sunset views, gorgeous landscape, nearby islands
Things to Do: Enjoy a barbecue night, enjoy a boat cruise, fishing and a trip to nearby islands
Suggested Read: A Take On The Finest Beaches in Qatar
2. Al Bustan Beach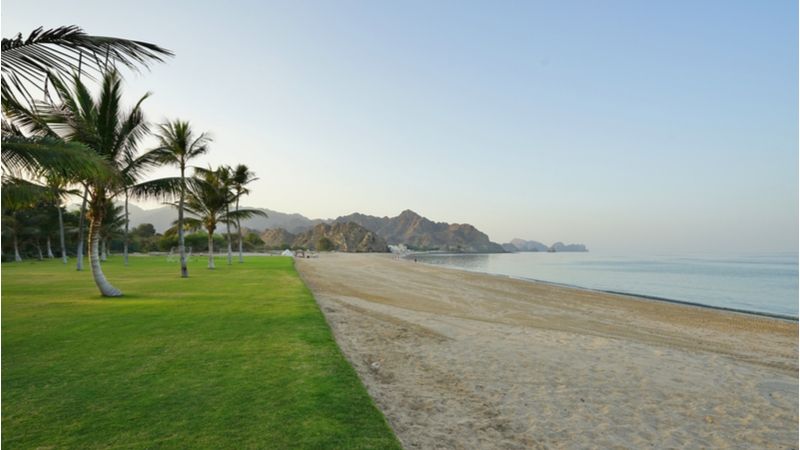 One of the best private beaches in Muscat is definitely Al Bustan Beach which is a part of the lavish Al Bustan Palace Hotel, one of the most famous hotels in Oman. Surrounded by lush green gardens and high mountains, the beach can be accessed only by taking hotel's 'day pass' wherein guests can access the beach and the top-notch amenities of the hotel. Additionally, one can also enjoy adventures like snorkeling, sailing and kayaking at this beach as the equipment for the same are provided as a part of this day pass. Witness an elite experience at this private beach which is clean, serene and offers unmatched facilities.
Location: Al Bustan Palace Hotel, Muscat
Facilities: Deck chairs, snorkeling equipment
Famous for: Cleanliness, views and top-notch amenities
Things to Do: Kayaking, snorkeling and sailing
Suggested Read: Beaches In Dubai: Bask In The Sun Or Indulge In Thrilling Adventures
3. Bandar Jissah Beach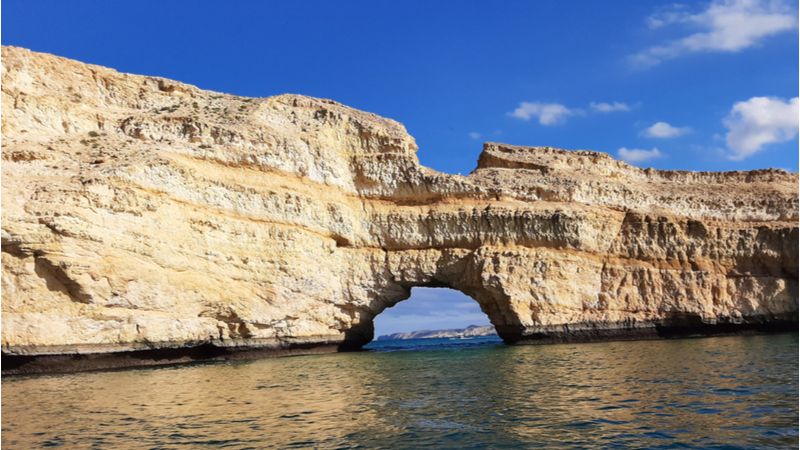 Another private beach in Muscat which is a part of Al Jissah Resort & Spa hotel can be easily accessed by tourists and non-residents by paying extra fee. Bandar Jissah beach is one of the best beaches in Muscat which is surrounded by lush green spaces and unusual rocky formations. During the low tide, guests can walk along the rocky shore to witness the beautiful rock formations. Fishermen's taxis are also available on the beach which can be boarded to reach the sea. This Muscat Oman beach also offers wellness and sports activities for their recreation.
Location: Bandar Jissah, Muscat, Oman
Facilities: Wellness and sports facilities, fishermen's taxis
Famous for: Rocky formations, adventure sports
Things to Do: Take a ride into the sea in fishermen's taxi, avail wellness treatments offered by the Al Jissah Resort & Spa hotel, one of the best resorts in Oman
4. Yiti Beach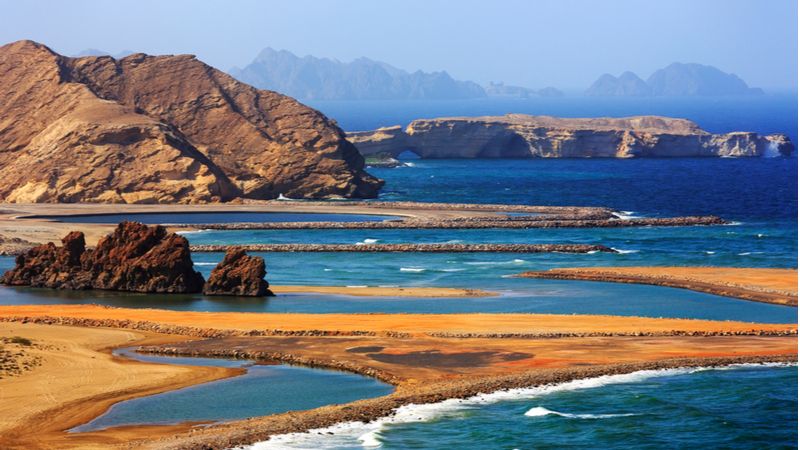 One of the most tranquil beaches in Oman, Yiti Beach is located in the outskirts of the city of Muscat and is famous for its tranquil ambience and spectacular landscape. If you want to delve into the tranquility of nature and just want to relax, then this is the perfect beach for you. The drive to the beach from Muscat is scenic in itself and offers pristine views along the way. This public beach in Muscat is great for swimming, camping and picnicking with friends or family. The landscape surrounding Yiti Beach is perfect to be captured in your cameras. As there are no facilities available at the beach, one can bring their own things in order to fully enjoy on the beach.
Location: 28 kms from Muscat city center
Facilities: No facilities available on the beach
Famous for: Rock formations, tranquility
Things to Do: Swimming, camping and picnicking with friends or family
Suggested Read: Top Beaches In Turkey That Surprise Travelers With Their Serenity
5. Al Sifah Beach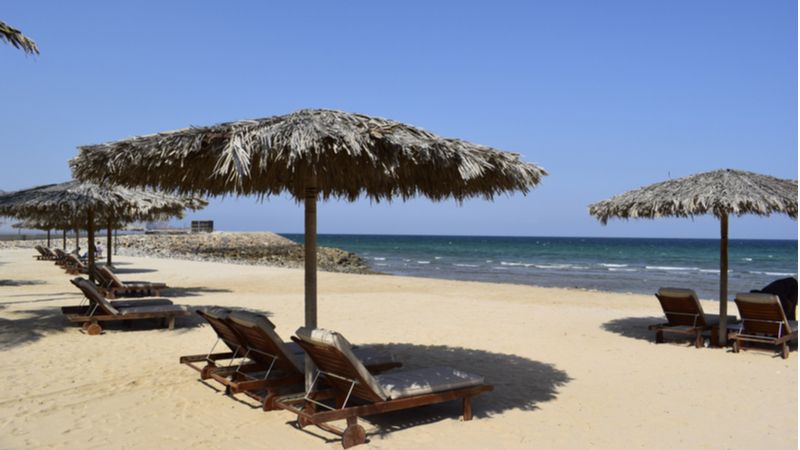 If you have already made your itinerary of the best places to visit in Oman, then do not forget to add Al Sifah Beach which is a real natural gem in Muscat. Overlooking Oman Gulf, the beach offers a great escape into nature and is a favorite weekend spot for the locals as it is just an hours' drive from the Muscat city. Located on the eastern coast of Muscat, the beach offers stunning views of Sifah Mountain and the gorgeous unusual rocks making up the beach's landscape. One can enjoy camping or barbecue on this gorgeous beach along with swimming and sunbathing.
Location: Al Sifah Village, Muscat
Facilities: Barbecue
Famous for: Gorgeous views
Things to Do: Swimming, barbecue, sunbathing
Suggested Read: Best Beaches In Europe Every Traveler Should Know About
6. Qurum Beach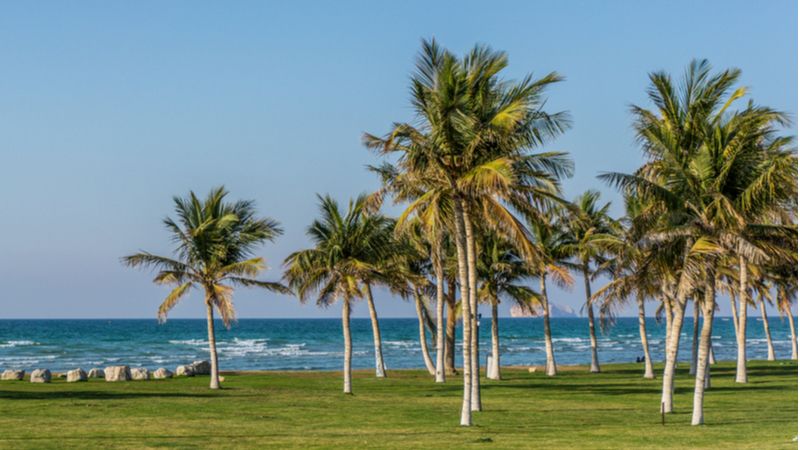 Qurum Beach is one of the best beaches in Muscat which is located on the northern coast and is just 20 minutes' drive from the main airport in Oman. What makes this beach so special is its close proximity to some of the best hotels in Muscat and tourist places like Royal Opera House. Several fancy cafes and restaurants can also be found near Qurum Beach. With a coastline dotted with palm trees, Qurum beach offers a perfect spot to relax in the shade. Myriad of water sport activities can also be enjoyed at this beach as equipment and other facilities are easily available. Jet skiing is the most popular activity to enjoy on this beach in Muscat.
Location: Northeast coast of Muscat
Facilities: Jet skis, hotels and cafes nearby
Famous for: Water sports, beach picnic
Things to Do: Jet skiing, swimming, sunbathing
Suggested Read: Beaches In Kuwait Known For Their Hidden Beauty
7. Kalbuh Beach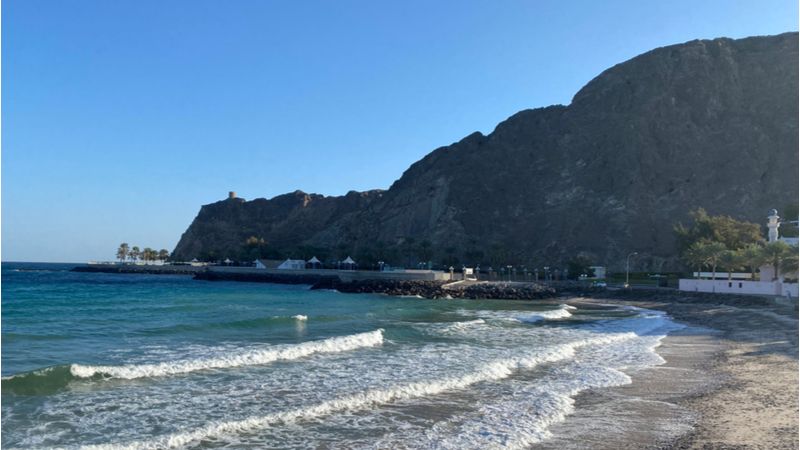 Another in the list of best public beaches in Muscat, Kalbuh Beach is located near the Kalbuh Park, a great place for children and family where they can enjoy to the fullest. One can enjoy pristine views of the surrounding landscape brimmed with high mountains around the beach. The turquoise blue waters of the beach offer great opportunity for swimming and one can even take free swimming sessions which are available on this beach. The Kalbuh Park which is located near the beach is an idyllic spot offering enchanting vistas, food stalls and washroom facilities.
Location: Kalbuh Park, Muscat
Facilities: Free swimming sessions
Famous for: Views and Kalbuh Park
Things to Do: Visit nearby Kalbuh Park, enjoy swimming and sunbathing
8. Pebble Beach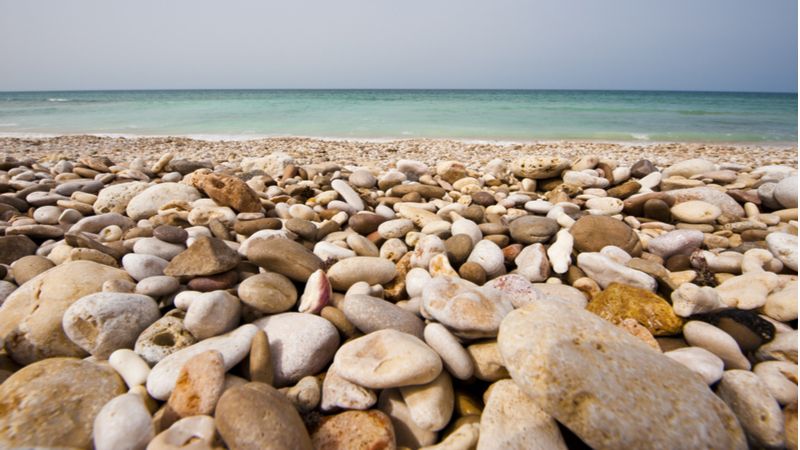 An untouched beauty of nature, Pebble Beach lies in an offbeat location offering stunning vistas of the Gulf of Oman. The entire coastline of the beach is covered with pebbles, so one must bring comfy pair of slippers to walk comfortably on the beach. This serene beach in Muscat lies in perfect serenity away from the humdrum of city's life. With absolutely no facilities and no restaurants and cafes nearby, one should bring their own essentials in order to enjoy at the beach to the fullest. The smooth pebbles glistening on the beach looks absolutely stunning with turquoise colored sea.
Location: Muscat–Sur Coastal road
Facilities: No facilities available
Famous for: Scenic views, pebbles
Things to Do: Camping, barbecue
Suggested Read: Places To Visit In The Middle East For A Cultural Holiday Experience
One can enjoy a pleasant time amidst serenity and natural beauty of the beaches in Muscat. A vast coastline offering stunning views of the Gulf of Oman and the mountain ranges is something that needs to be captured in your cameras. Get mesmerized by the picturesque beauty of the natural gems in Oman, enjoy thrilling adventures or spend some peaceful time. All this and a lot more can be experienced on the beautiful beaches in Oman. Before booking your flights to Muscat, make sure to make your itinerary and include these beaches for a great vacay.
FAQs
Q1. Which are the best beaches in Muscat for family and kids?
Some of the best beaches in Muscat for family and kids are Qantab Beach, Al Sifah Beach and Qurum Beach.
Q2. When is the best time to visit Muscat?
November to March is considered an ideal time to visit Muscat when the day's weather is balmy with cool nights, just perfect for a relaxing vacation.
Q3. How many days are enough for a trip to Muscat?
Q4. Which beach activities are popular in Muscat?
Swimming, snorkeling, kayaking, beach camping and barbecue are quite popular beach activities in Muscat.
Q5. What is Muscat famous for?
Muscat is famous for its stunning range of Hajar Mountains and Sultan Qaboos Grand Mosque which is known to house second largest chandelier and carpet in the world. Also, one can expect to relish scrumptious seafood in Muscat and also stroll through its vast deserts.
Q6. Which are the most famous tourist attractions in Muscat?
The most famous tourist attractions in Muscat are:
Sultan Qaboos Grand Mosque
Wadi Bani Khalid
Mutrah Corniche
Bait al Zubair
Royal Opera House
Q7. What should one wear on the beaches of Muscat?
One can wear anything they like on the private beaches in Muscat. However, it is expected to dress modestly on the public beaches owing to the sentiments and culture of the local people of the country.
Q8. Which are the best public beaches in Muscat?
Some of the best public beaches in Muscat are:
Qantab Beach
Yiti Beach
Qurum Beach
Al Sifah Beach
Kalbuh Beach
---