Are you looking for a technology detox and exfoliate with sand in soothing salty water amidst vital vitamin D? Well, then without a doubt, you should plan your next vacation on the mesmerizing beaches in Alexandria. Located in a multitude of shores, Alexandria is also known as the 'Bride of the Mediterranean'. Due to its prime location, this city enjoys a lot of beautiful beaches to give you a sun-kissed experience and a surreal breezy lifetime of memories. Scroll down the blog to explore the best beaches in Alexandria for your next visit.
Top Beaches in Alexandria for a Perfect Vacation
From pristine landscapes to heavenly beaches, Alexandria is all set to welcome voyagers for an enthralling experience. From sunbathing to enjoying adventurous water sports, beaches embrace numerous gripping activities for a much-needed detox. To avail of the excitement and adventure, visit the best beaches in Alexandria.
1. Relaxing on Rocks on The Cleopatra Beach
Being one of the ancient beaches in Alexandria, Egypt the Cleopatra Beach is a famous one stop tourist attraction. The sparkling blue waves rushing to the rocks is a soothing image to watch for hours. The abundance of rocks here makes the beach not a very good place to swim, but one can definitely relax on the rocks and enjoy fishing. One can rent fishing equipment and have a fun-fill experience on the shore. Besides fishing, going on a boat ride and enjoying a peaceful picnic is the perfect way to spend a day on the beach. Among all the things to do in Alexandria, this place will give you lifetime memories wherein one can rejoice flavorsome Alexandrian cuisines at the restaurants nearby.
Nearby Attractions
Safwani Group of Grills and Fish
The Tulip Hotel
Type: Public beach
2. Enjoying Cuisines at El Maamoura Beach
One can get lost in the charm of El Maamoura Beach, found on the neighbourhood of Alexandira and east of Montaza's royal garden. The El Maamoura beach is a very sandy beach filled with beautiful shells and gravels on the sea shore. There are all kinds of adventurous activities people can participate in. There one can see a lot of ice-cream and snacks stalls on roadside, making the place bit crowded during summers. So, its advised to reach on time and reserve a spot by carrying your own umbrella or one will have to rent one. The nearby restaurants serve some of the most flavorsome delicacies that will give a long-lasting taste. This place adorns some of the best restaurants in Egypt that will give all the connoisseurs a scrumptious delight.
Nearby Attractions
Presidential Place
Royal Garden.
Type: Public beach
Suggested Read: Places To Visit In The Middle East For A Cultural Holiday Experience
3. Perfect Panoramic Photograph at Bianchi Beach
If you are looking for very serene beaches in Alexandria, then this is a picturesque you must visit. Though this beach is very famous but still its tranquil most of the time. The surrounding aura, soothing panorama and charm of this place captures best shots and thus it's a great attraction for tourists. With soft white sand and crystal blue waves, this place is a complete paradise and one of the best honeymoon places as well. So, swirl among the waves and take a relaxing dip while relishing with your loved ones.
Nearby attractions
Type: Private beach
Suggested Read: Finest Places To Visit On Your Next Holiday In Egypt
4. Scuba Diving at Abu Qir Beach
Abu Qir beach is a paradise for all the adventure enthusiasts. Its one of the private beaches of Alexandria and a complete picture-postcard that will give you those wonderland vibes. During summers, the beach is full of sport activities and mouthwatering cuisines which makes this place ideal for picnicking. Exploring colorful fishes while diving in sea is a dream for many. This beach is located on a small fishing village of Alexandria, making it a lodestone for fishing and diving.
Nearby attractions
The Lost City of Heracleion
Type: Private beach
5. Relishing in Cabanas at Aida Beach
Sitting along seashore, gentle to and fro waves kissing your feet, while you are relaxing under a palm tree with your loved one under an umbrella and sipping your favorite mocktail. Mesmerized? Well, honestly this is a place you should visit in your upcoming vacation. Maintained by the Aida Beach Hotel, Aida Beach is one of the pristine beaches in Alexandria. Being a private beach, it experiences a serene and cherishing aura, where you can relax and make it a lifetime memory. Surrounded by beautiful palm trees, this beach consists of bars and cabanas and the flavorsome cuisines, all making the place very romantic and pleasant.
Nearby Attractions
El Alamein War Museum
Deutsche Kriegsgraeberstätte (Historic Site)
El Alamein day tour from Cairo.
Type: Private beach
Suggested Read: Desert Safari in Egypt: Explore to Cherish an Exceptional Vacation
6. De-stressing at Helnan Palestine Beach
Located at the renowned Montaza Park in Alexandria, The Helnan Palestine Hotel offers the Helnan Palestine Beach. From delicious cuisines to magnificent picturesque, tourists can experience excellent services and hospitality and enjoy water sports. It is considered as one of the most resplendent
and pristine beaches in Egypt embracing a luxurious a beach spa in the golden sands. You can also rent a boat and enjoy boating with your soulmate. The beach faces Montaza Royal Palace which is a very famous imperial landmark which was once the site where the late Egyptian royal family vacationed, making this place a great tourist attraction.
Nearby Attractions
Type: Private beach
7. Cycling at Marsa Matrouh Beach
Enchanting beautiful caves along the serenity of the crystal-clear turquoise sea water and white sands, the beach consists of a series of rocks which acts as a natural wave breaker. This is a public beach and an ideal place for romantic photoshoots. Amongst all the fun things to do in Egypt, cycling on the Marsa Matrouch beach is the most enthusiastic . One can rent a bicycle and enjoy thrilling adventure. This beach is close to a now dried up spring leaving behind a rocky trail. From here, tourists often plan to visit and swim in Lake Siwa, which is a famous salty lake which is about a 3.5 hours' drive from here.
Nearby attractions
Shatt Al-Gharam
Lido
Rommel
Lake Siwa (Salty Lake)
Al-Obayed
Type: Public beach
Suggested Read: Top Places To Visit In Qatar On Your Next Trip
8. Gala Time at Four Seasons Beach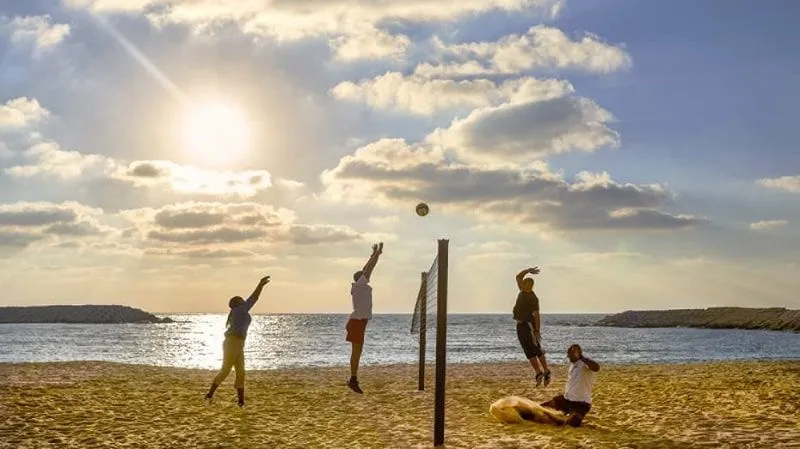 Located on the San Stefano Towers, over the Mediterranean Sea, the Four-Season Hotel, Alexandria manages and offers its private beach to tourists for a magnificent vacation. Facing the sea shore, the hotel provides many facilities on the beach including mouthwatering continental food in middle east and beverages, cabanas, kids zone and much more. One can relax in this peaceful paradise while sunbathing in the Sun and savor rich Alexandrian flavors.
Nearby Attractions
Royal Jewellry Museum
Catacombs of Kom El-Shuaqqfa
Pompeys Pillar
Fort Qaitbay
Type: Private Beach
Beaches have always been a part of the bucket list and a fascinating family vacation for many. Beaches are a gift of nature and one can spend a tranquil time, savoring flavorsome cuisines and relaxing amidst soft white sand and cool breeze. Kids playing with sand and making small sand castles are so enthusiastic to watch. Lying under an umbrella, closed eyes and the absorbing the cool breeze, while the ocean waves whispering in your ears, beaches in Alexandria will make your vacation a worthy life time memory.
FAQs
Q1. What are the best beaches in Alexandria, Egypt?
The famous beaches of Alexandria are-
The Cleopatra Beach
El Maamoura Beach
Bianchi Beach
Abu Qir Beach
Aida Beach
Helnan Palestine Beach
Marsa Matrouh Beach
Four Seasons Beach
Q2. Where can one do scuba diving in Alexendria?
The Abu Qir Beach is located on a small fishing village of Alexandria, making it a hotspot for tourists for fishing and diving. During summers, the beach is full of delicious food and sport activities like scuba diving, making this place a great tourist attraction.
Q3. What is Marsa Matrouh Beach famous for?
The Marsa Matrouch beach is famous for its rocky caves and flavorsome cuisines. This beach is a huge tourist attraction for cycling and photoshoots amidst of beautiful rocky caves and crystal-clear turquoise sea water.
Q4. Why is the Cleopatra Beach so popular?
The Cleopatra Beach in Alexandria is very famous rocky beach in Alexandria. The place is quite relaxing and one can enjoy fishing while sitting on the rocks on the seashore, making it an ideal place for family picnicking.
Q5. What makes Helnan Palestine Beach is a great tourist attraction?
Once the site where the late Egyptian royal family vacationed, the Helnan Palestine beach faces Montaza Royal Palace which is a very famous historical landmark making this place a great tourist attraction. It's one of the cleanest and luxurious beaches of Alexandria.
Q6. Does Alexandria, Egypt have an airport?
Located about 40 KM southwest, Borg El Arab International Airport is the airport of Alexandria. The other one is Alexandria International Airport for the tourists.
Q7. Which Alexandrian beaches have Cabanas?
Beaches like Aida beach and Four Season Hotel Beach have beautiful cabanas or beach huts wherein one can relax and absorb filtered sunlight and relish a good time.
Q8. Which are the best private beaches in Alexandria?
Here is a list of some best private beaches in Alexandria where one can relish a luxurious vacation.
Four Seasons Hotel Beach
Helnan Palestine Beach
Bianchi Beach
Abu Qir Beach
Aida Beach
---