Get ready for countless entertainment and fun with an exclusive city in Qatar, while traveling here during FIFA World Cup 2022. With the best amusement parks and playing centers, malls, museums, fan zones, and more, Qatar has always been a perfect holiday place for families. Al Maha Island Qatar is a distinctive entertainment hub for locals and tourists, looking for some fun and adventure. Offering you every entertainment option, the island is led by IHG and Qatar tourism authorities to boost tourism in the country and offer the best holiday experience during and after the football world cup.
Al Maha Island Qatar- Paradise Brought on the Earth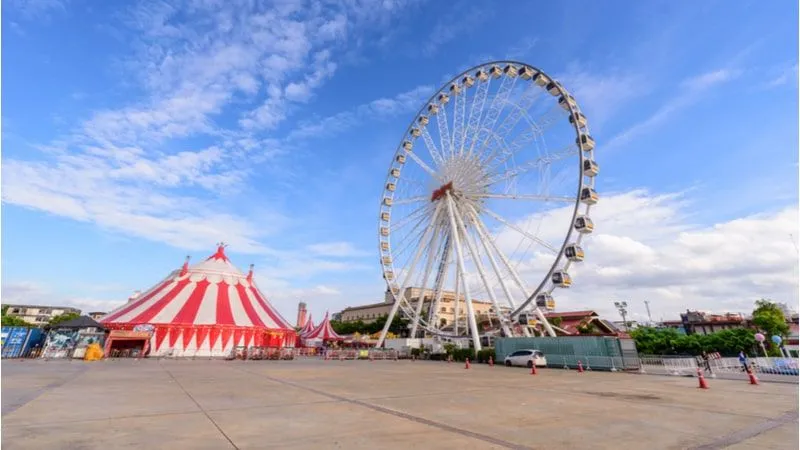 On May 9th, 2022, a plan was initiated by the Investment Holding Group, making Al Maha Island, the latest entertainment center in Qatar. The vision behind the step is to promote tourism and create a high-tech entertainment zone for tourists. The Al Maha Island is set up on a 120 000 square meter plot of land and the project is led by the IHG subsidiary, Elegancia, and IMG, in collaboration with Qatar Tourism Authority. The idea behind the project is to make Al Maha Island a hotspot for tourists. An estimated number states that the Island in Qatar will be attracting over 1.5 million visitors per year. Another major reason for its popularity is the Al Maha Island location, nestled close to the Place Vendome mall in Lusail.
From kid activities to nerve-wracking coasters, and from fine dining and live performance venues to a la carte eateries, Al Maha Island's Lusail has it all! With a 7,000 maximum capacity and numerous restaurants and bars with a global reputation, such as Zuma, Nammos Beach Club, Em Sherif, Billionaire, and others, this location is nothing less than a foodie's paradise. Not only eateries and white sand beaches, but Al Maha Island has an ice-skating rink outside, theatrical encounters, Lusail Winter Wonderland that features more than 50 mind-blowing rides and attractions, a 395-meter-tall roller coaster, and a circus for kids and family vacation here.
Al Maha Island- A Luxurious Town for Foodies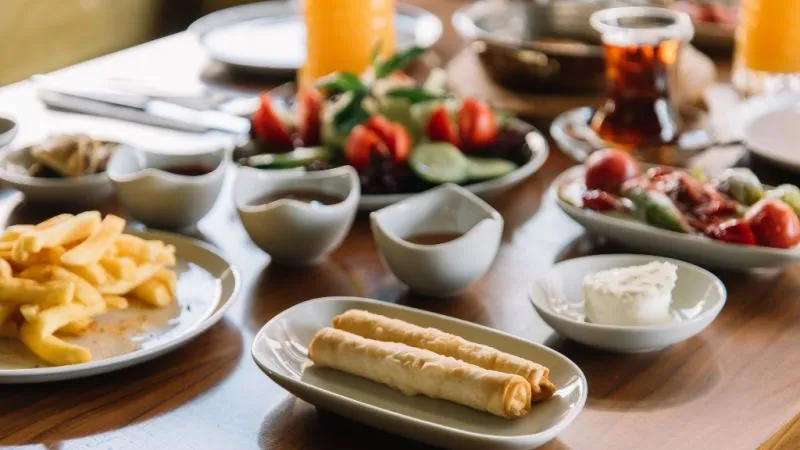 All the foodies? Well, Al Maha is a High-End District and is surely a hub for those who love relishing the best food in the world. With 12 high-end restaurants that are known for their international menu, the island has listed the best zest of Asian, Lebanese, and Turkish flavors. These award-winning restaurants in Qatar are known for their best services and facilities. The ambiance, feel, menu, and aura of the place is just perfect, and for your family dining in Qatar. Here are some top cafés and restaurants at Al Maha Island Qatar to enjoy the respective cuisines:
LPM: The well-known French restaurant and bar LPM, which has Mediterranean characteristics, has come to Al Maha to take customers on a culinary tour of the southern regions of France and the Mediterranean Sea's coasts along with FIFA world cup match live streaming.
Em Sherif: A magnificent Levant restaurant serving gourmet dining and traditional Lebanese cuisine, designed to resemble an Oriental Mansion, will complete the menu. The restaurant, which has won awards in Lebanon, has locations there as well as in Kuwait, Saudi Arabia, the United Arab Emirates, and London.
Billionaire: A popular bar and nightclub called Billionaire offers upscale eating and nightlife, as well as a unique show with fantastic entertainment that expertly combines extraordinary performances, wonderful food, and exceptional service. Many famous people and superstars like to holiday at this place. Billionaire on Al Maha Island is a delight for tourists looking for luxurious dining.
Dokya: A Turkish tavern that offers a variety of mezze and Turkish food on Al Maha Island. The restaurant is known for its exquisite design, which combines elements from the traditional oriental and modern western styles.
Al Maha Island's Top Attractions for the Best Adventure and Fun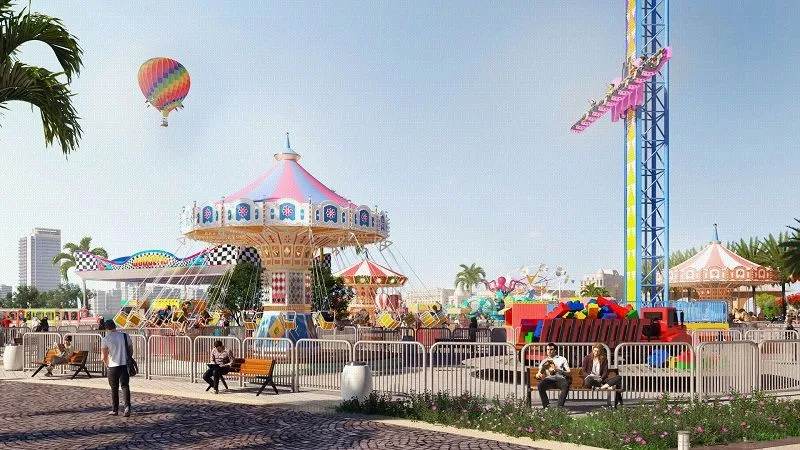 Al Maha Island in Qatar is surely an entertainment center where you can enjoy every adventure. The island is a hub for families out on a vacation where they have options to spend time, relishing the delicious food at cafes, or trying new games with family and kids. With the motive of attracting over 1.5 million visitors per year, the island features an amusement park in Qatar, a beach club, and more. Check out this amazing attraction that makes the island a perfect spot for holidaymakers.
1. Doha Winter Wonderland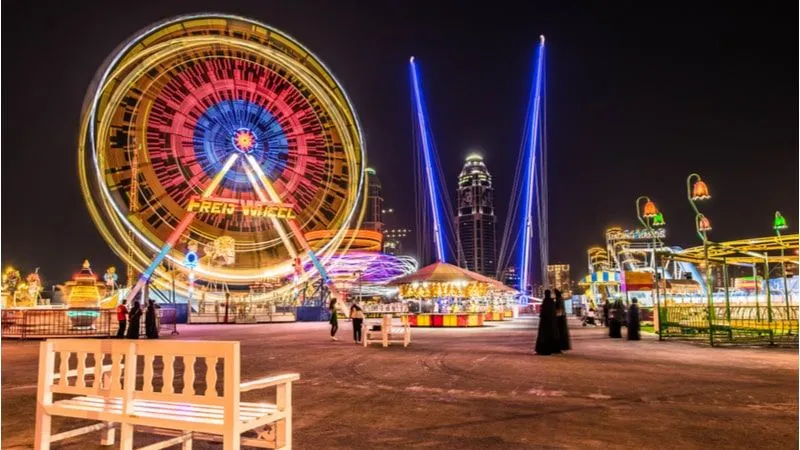 To experience the best time of your vacation come to the Doha winter Wonderland, an amazing adventure hub. With the best rides and breathtaking adventures, you are going to spend a perfect day with your family, experiencing some adrenaline rush. Enjoy your time at The Space Gun, Drop n' Twist Tower, and Vertical Swing, or feel the thrill of Bumper Cars, Mini Disco, and The Galleon. There are some best rides for kids as well like the Pony Adventure, Air Balloon, and Circus Swing. These rides are the major attraction in Al Maha Island Qatar, attracting locals and tourists. Gandeys Great Circus of Europe, Europe's largest touring show, is brought to Qatar by the producers of Hyde Park Winter Wonderland. As it continues to offer thrilling activities that captivate the entire family and people of different ages and backgrounds, Gandeys Great Circus of Europe will help increase the number of visitors and football fans to Lusail Winter Wonderland. Overall, there are more than 50 world-class games or amusement rides, a 395-roller coaster, 10 thrill rides, 150 ft Ferris Wheel, 25 family rides, and 15 rides, this is undoubtedly the best place to enjoy a fun-filled vacation.
Timings:
WEEKDAYS - 5:00 PM - 12:00 AM
WEEKENDS - 5:00 PM - 1:00 AM
Suggested Read: 16 Best Waterfalls in the World For Enchanting Your Soul With Their Beauty
2. Nammos Beach Club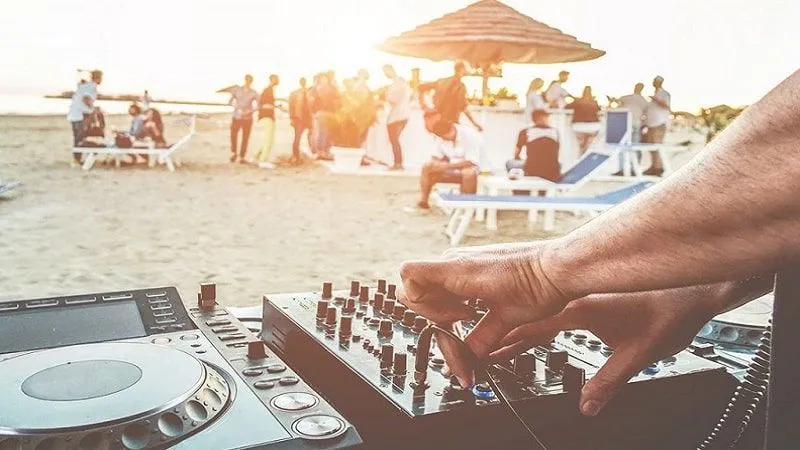 Sun and sea, good food, great music, and luxury facilities set against a landscape of pure beauty, Nammos- a greek inspired beach club has it all for you to spend quality time with your loved ones. This is going to be a beautiful day at Al Maha Island in Lusail with the best leisure, thanks to its exclusive Nammos Beach club. This private beach club is a cozy corner for those on a honeymoon in Qatar, where they can find the best food and a comforting ambiance to relax.
In the heart of Al Maha Island, Nammos Beach Club offers an array of dining and holiday experiences, carried out by a team of world-class chefs. The Nammos beach club serves super fresh seafood and world-class sushi, as well as an extensive mixed drink and bubbly menu. The original location is also known for its shisha lounge. Offering the best beachside vibe, they boast luxe modern interiors with the crystal-clear sea, turquoise skies, golden sand, and views of dhow boats docking at the marina. This luxury venue is designed to provide guests with a variety of holiday experiences, and with its prime location on the Arabian Gulf, it is the most sought-after private island in the country for vacationers. You can enjoy crystal-clear sea views, turquoise skies, and golden sand and see dhow boats dock at the marina.
3. The International Music Fest Venue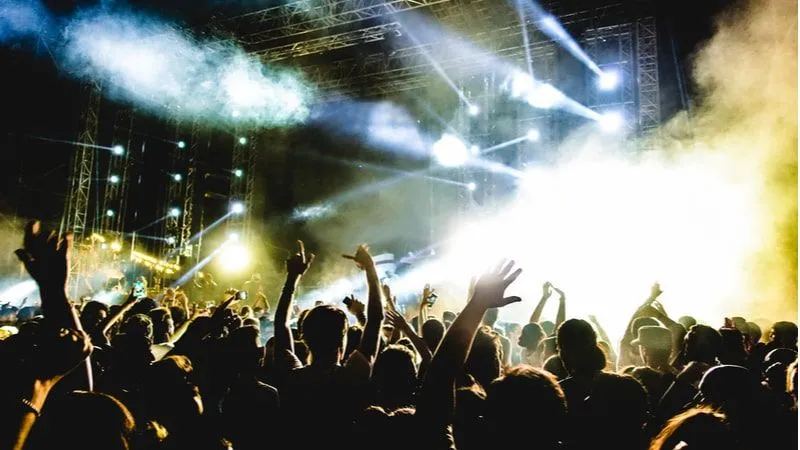 A well-designed and well-equipped venue for all international festivals on Al Maha Island in Qatar is a major draw for football fans visiting the country. The venue, built over a large area with over 7000 seats, is set to host a variety of tourist events. During FIFA World Cup 2022, It will host the Global Music Festival, many live events that are anticipated to bring well-known DJs, singers, and comedians as well as international and regional superstars. There is a DJ booth and a stage where international and local artists can perform their best songs for the fans.
The international music festival venue in Al Maha Island is well-known and will be remembered for its excellent infrastructure. The best connectivity to the venue can be easily found. The island has cafes, restrooms, and other amenities to ensure your comfort and convenience.
Suggested Read: Nightlife In Doha: The Best Places To Enjoy Your Magical Evenings In The City
4. Fan Zone for Live Streaming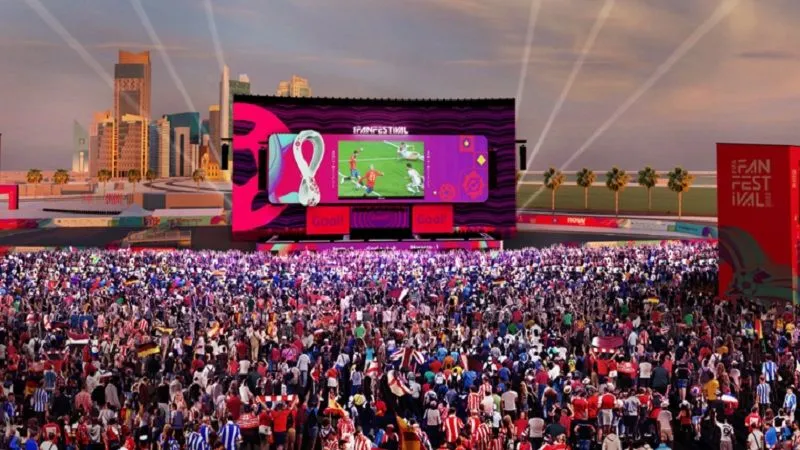 From November 20 to December 18, Qatar will host the FIFA World Cup in its numerous venues for soccer enthusiasts from around the globe. With amazing matches, scenery, culture, and tradition, as well as a range of events and shows, Qatar is prepared to delight tourists. Al Maha Arena on Al Maha Island in Lusail will house the area for music fans. For football fans worldwide, the FIFA World Cup 2022 is a major event. Every fan wants to purchase a ticket for a game, but there are only a certain number of tickets available for fans. However, thanks to these fan zones, they can watch matches live streaming among other fans away from the stadium. During the competition, the Doha Metro will be accessible to all Hayya Card holders without any charge. Though, visitors who have reserved hotels in the fan villages will have access to the recreational amenities and food and beverage outlets at the Fan Villages Cabins Free Zone provided by Al Emadi Hospitality. The location will be Al Maha Arena on Al Maha Island in Lusail.
Suggested Read: Places To Visit In Chopta: Appreciating The God's Marvellous Creation
The Al Maha Island Qatar is a state-of-the-art tourist attraction that is just one of its kind. Located close to the Place Vendome mall in Lusail, it will attract over 1.5 million visitors per year. The development focuses on making this hotspot a boon for tourism by adding features like villas and a marina among others. This leisure and entertainment project is surely an addition for tourists who want to enjoy the best of their holiday, experiencing the thrill and fun. Get ready for some spellbinding fun with your Qatar tour packages and visit to this entertainment hub.
FAQ's
Q1. Where is Al Maha Island in Qatar?
Al Maha Island is located in Lusail, close to Place Vendome Mall. The island is going to be a complete entertainment hub for all visitors.
What is special for football fans in Al Maha Island?
Al Maha Island is all set to entertain the football fans coming for watching and cheering their teams. The musical events, fan zone for live streaming, fabulous restaurants, lush beaches to enjoy the matches and spend some leisure time on this beautiful island.
Q3. What are the top features of Al Maha Island in Qatar?
The top features of Al Maha Island in Qatar are:
High-End district cafes
Doha Winter Wonderland Theme park
Nammos beach club
International Music Fest Venue
Q4. What is the Doha winter wonderland?
Doha Winter Wonderland is an amazing adventure hub and a theme park that is managed by the "Hyde Park Winter Wonderland" in Hyde Park, London. With the best rides and breathtaking adventures, you will spend a perfect day with your family, experiencing world-class British circus and adrenaline rush.
Q5. Is Al Maha Island an ideal place for honeymooners?
Nammos Beach Club on Al Maha Island is a cozy corner for those on a honeymoon in Qatar. They can find the best food and a comforting ambiance to relax.
Q6. Are there any cafes on Al Maha Island?
Yes, Al Maha Island in Qatar will have 6 awarded restaurants for your perfect dining experience. The top 6 cafes are:
Zuma- Japanese cuisine.
LPM restaurant- French and Mediterranean cuisine
Em Sherif- Lebanese Cuisines
Billionaire- Luxury Qatari Dining
Dokya- Turkish delicacies
Jwala Restaurant- Indian Food
Q7. Where is Nammos Beach Club in Qatar?
Nammos Beach Club is a private beach club in Qatar where you can enjoy quality time with your friends. The beach club offers a perfectly styled menu and a casual ambiance to hang out.
Q8. What facilities are offered at Al Maha Island?
Al Maha Island offers the best facilities and services for all. There are cafes and restaurants, a private beach, and a theme park. You will find restrooms and other facilities too.
---