Langkawi is a beautiful, serene and calm island. The airport in Langkawi is small yet sufficient for the island. Being the only airport on the island, it will not disappoint you. Langkawi is an island of gorgeousness. With so many things to do and places to visit, it is an ideal place for a tropical trip.
Langkawi Airport: Guide To Go Around The Complex
Langkawi is an island of untouched beauty and tranquil scenes and Langkawi International Airport is here, to make your vacation around the island easier and more relaxing.
About The Langkawi International Airport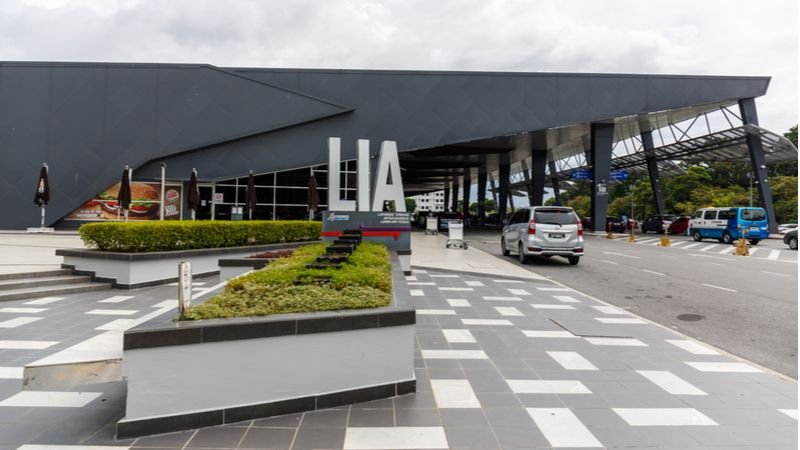 Langkawi International Airport is the only airport on the island. It is about 25 minutes away from Kuah town, the capital of Langkawi. Initially, there was just a small landing strip and was used by barely 20 passengers on a daily average. But with time more and more people found about the intrinsic beauty of this town. Langkawi Airport has only one terminal for all the flights in and out of the island. The entire island is a duty-free zone, so you won't likely spend much time here. The airport has a limited number of stores, where you can buy the essentials, beauty products, and some restaurants and cafes as well. This is a small one and is not as luxurious as Kuala Lumpur Airport. But being the only airport, it has turned out well.
1. Arrival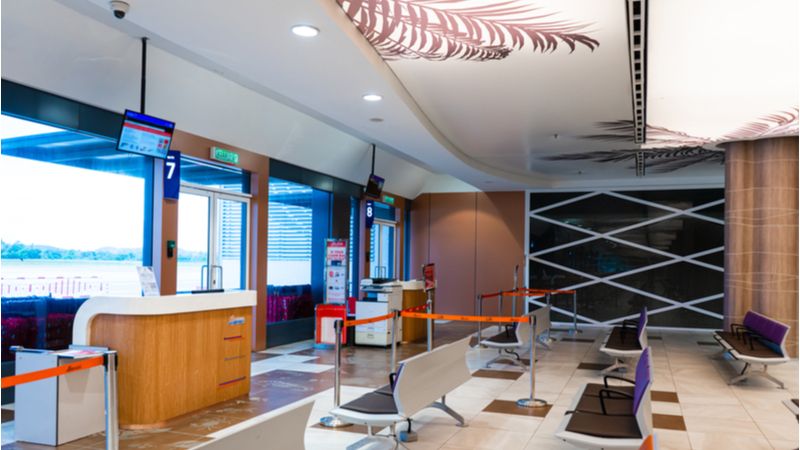 Once the flight lands, you have to walk along the tarmac for a small distance to reach the arrival hall. If it is sunny, you are likely to get all sweaty, unless a crew member hands you out an umbrella, or it if rains, then you will get wet as well because there is no covered jet walk or aerobridge at the airport. Don't worry, the walk is actually a short distance, the arrival hall is air-conditioned, so can sigh once you get inside. The arrival hall is a simple, large hall with a baggage claim area and a series of stalls catering to car rental and taxi service. The exit corridor leads to another large hall.  This hall is a common area and is accessible to everyone. You get all duty-free cafes and restaurants at this Malaysia airport. The entire island is duty-free, so, until it's not absolutely necessary, you can skip the tour to stores.
2. Departure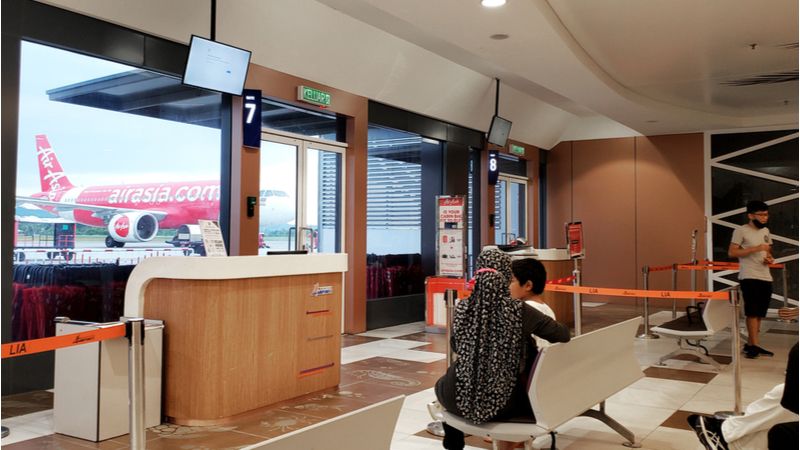 Langkawi airport departures have heavy traffic, especially if your flight is leaving in the evening or afternoon. So, you might want to plan your day accordingly, you should expect long queues at the check-in counters. The check-in counters for departing are in the large common hall, with duty-free, shops. Just in case you missed out shopping on the island this your chance, there are duty-free shops selling from gifts and souvenirs to perfumes and cosmetic items. The prices are far less than KLIA. The Departure area is on the other end of the hall.
Suggested Read: Places To Visit In Kuala Lumpur For A Glimpse Of Culture And Lifestyle
3. Shopping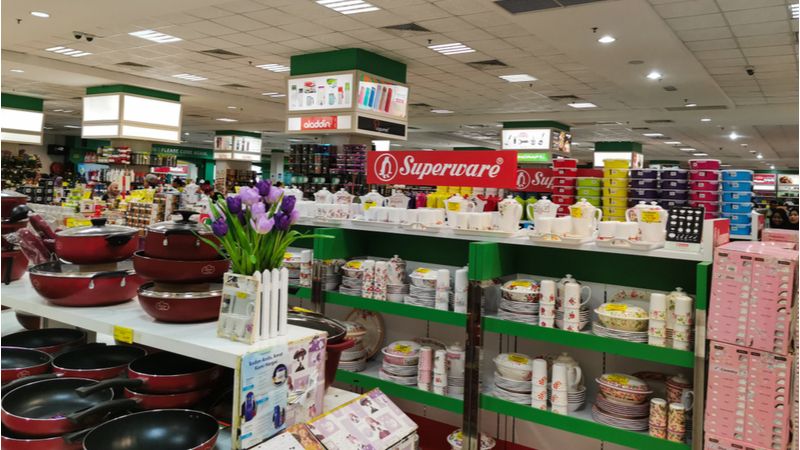 Lgk airport caters to a few duty-free stores. You will find stores selling souvenirs, gifts, chocolates, perfumes, clothing, cosmetic items, and beauty and body care products. These stores are as good as you will find on the island. If you feel buying something you can buy from these stores. Langkawi has a good number of attractions in Malaysia, and shopping there is a better option.  These stores are in the common hall or you may say the departure hall. Tourists usually tend to shop during the departure, instead of arrival. As the whole island is duty-free, so until and unless it is an emergency, you might want to skip this part. But the stores here give you a second opportunity to buy presents or anything you like, just in case you missed it out on the island.
Suggested Read: Top Malls In Kuala Lumpur For A Top-End Shopping Experience
4. Dining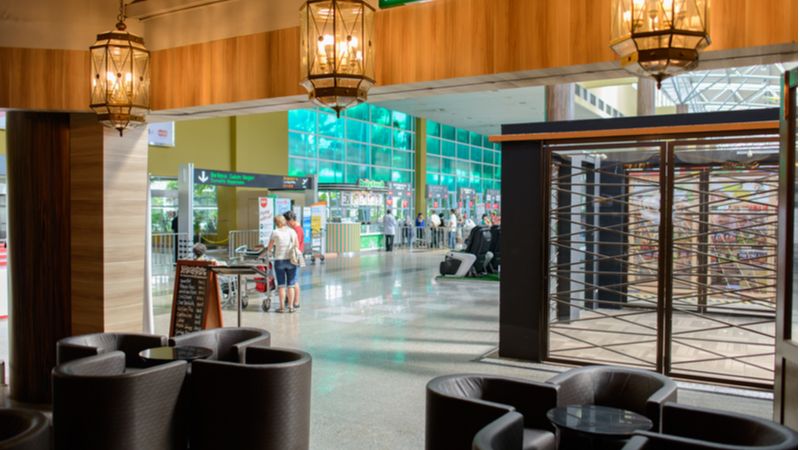 The airport also caters to some cafes and big brand food stores. You will find these stores in the departure hall. Feel like grabbing a bite to eat, well here is your option. These stores include famous food brands like Starbucks, Burger King, Costa Coffee, The Ocean Bistro, Yakun, and Taste of Langkawi. As the departure queues are long, so it is more likely that you will grab a bite during departure, rather than on arrival.
Services and Facilities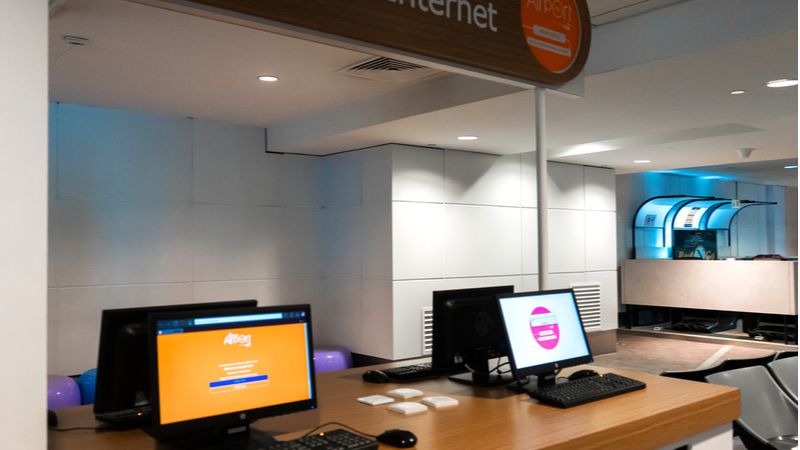 1. Car Rentals
Car rental is a service where you hire a car, and it is usually a roundabout trip that means you pick the car from a location and drop it off at the same location. Some companies offer a one-way trip (leaving the car at a different location), but that is going to cost you more. Langkawi International airport offers this facility to its passengers. You can hire a car from the airport, that is after your arrival, or you can even book it online. This is the best bet for your dollars, and for you to go around the island at your own vehicle-hired vehicle.
2. Public Phones
The airport caters to a bunch of public phones. You can use them to make calls. Available at the Arrival Hall, you can use your credit card, calling cards which you can buy from the duty-free zone, or local coins.
3. Plaza Premium Lounge
Situated at the departure hall, but outside the secured area, this is a private lounge. You can avail facilities like beverages, food, magazines, bar, wi-fi, newspaper at a certain cost of course. You can opt for the food of your choice, from local cuisine to international food. After you complete the check–in, you can go to the secured departure lounge, which is exclusively for departing passengers only.
Suggested Read: Kuala Lumpur Shopping: Mentor For The Best Street Shopping
Transportation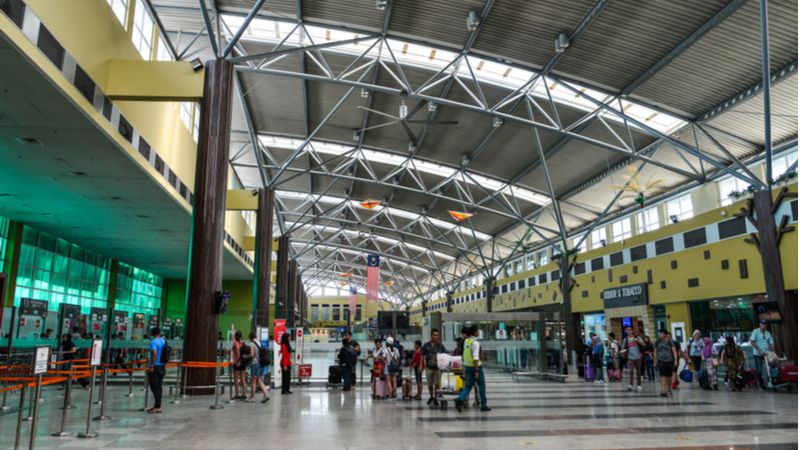 1. Buses
To go around the island, there is no public transport available, so, No buses available. You can either take a taxi which is going to cost you a lot or you can hire a vehicle- motorcycle or car, which is more worth your money.
2. Taxis
Taxi service is available at the airport. You can buy a coupon from the desk at the arrival hall. Walk outside and show this to any cab driver, they will take it. Prices will vary according to your destination. Kuah Jetty is going to cost you around RM 24, as it is closer to the airport than Pantai Kok, which can cost you around RM 28. The further you go the more the charges.
Suggested Read: Shopping In Langkawi, Malaysia: Get Close To The Local Traditions
Quick Facts
Location: Langkawi International Airport is located on the southwestern part of the island.
Padang Mat Sirat Pulau Langkawi, 07100 Langkawi, Kedah, Malaysia
Airport Code:
IATA airport code is LGK
ICAO code is WMKL
Runway: There is only one runway at the airport. Runway 03/21 – 3,810 meters, 12,500 feet long – Asphalt
Langkawi, the island of undisturbed beauty, has a lot to offer to make your staycation the best. To reach the island, Langkawi airport is the only option. The island is renowned for its mystical legends, exquisite beaches, pristine rainforests, and superb duty-free shopping! What is the delay then? Book your flights to Langkawi now!
FAQs
Q1. What are the services available at the Langkawi airport?
Langkawi International Airport is the only airport on the island and thus offers multiple services and facilities. They are: -
Baby Care Room
Charging Station
Muslim Prayer Room
Car Rentals
Wi-fi
Lost and Found
Public Phones
Lounge
Q2. Is shopping available at the airport?
Yes, the option for shopping is available at the airport.
Q3. How many airports are there in Langkawi?
There is only one airport on the island of Langkawi, Langkawi International Airport. It is used for both International and domestic purposes.
Q4. What is the best time to visit Langkawi?
The best time to visit Langkawi is when the weather is a good balance of sunlight and light rainfall, which is in the months of November to April.
Q5. Which are the best places to visit in Langkawi?
The best places to visit on this tranquil island are: -
Gunung Raya
Langkawi Wildlife Park & Bird Paradise
Seven Wells Waterfalls
Langkawi Sky Bridge
Air Hangat Village
Q6. What is a car rental service?
Car rental is a service where you rent a car, for use. It is usually a roundabout service, which means you take the car and drop it off at the same place, where you picked it up.
Q7. How can I travel from the airport to the city?
From the airport, you can either take a taxi or a hired vehicle to your desired location. Taxi is going to cost you more than hired vehicles (motorcycle, car), as their price varies from place to place. It is better to hire a vehicle.
Q8. Which stores are available in the airport?
The stores available for shopping at Langkawi airport are: -
Beauty & Body Care
Chocolate & Confectionery
Cigar
Karyaneka
Liquor & Tobacco
WHSmith
Perfume & Cosmetic
Travel Gadget
---